The day has finally arrived; Randy Moss is back in Madden Ultimate Team! Michael Vick and Deion Sanders join Moss in this week's release of 'The 50', easily making it the best release of the program so far. Moss is a Deep Threat WR Archetype with 95 SPD, 96 JMP, 96 SPC, 95 DRR, 95 CTH, and 93 CIT ratings. Vick is a Scrambler QB Archetype with notable ratings of 95 SPD, 97 THP, 95 RUN, 93 DAC, and 91 SAC. Deion Sanders is a Man-to-man CB with 96 SPD, 96 ACC, 97 MCV, 95 ZCV, and 94 PRC ratings. Check out today's new players, sets, and challenges below:
For previous news articles on 'The 50' program, click the following: Week 1 | Week 2 | Week 3 | Week 4 | Week 5 | Week 6 | Week 7 | Week 8 | Week 9 | Week 10 | Week 11 | Week 12 | Week 13
Players
There are 3 versions of each player from this week's 'The 50' release, a Stacked version (96 OVR), a Fresh version (86 OVR), and a Power Up item. You can exchange Fresh versions in Sets to receive Stacked versions of 'The 50' players.
Sets
The following new sets can be found in MUT under 'The 50' in the Sets section:
Michael Vick - Exchange any 32x 86+ Fresh Players to earn 96 OVR Stacked Michael Vick and his Power Up.
Randy Moss - Exchange any 32x 86+ Fresh Players to earn 96 OVR Stacked Randy Moss and his Power Up.
Deion Sanders - Exchange any 32x 86+ Fresh Players to earn 96 OVR Stacked Deion Sanders and his Power Up.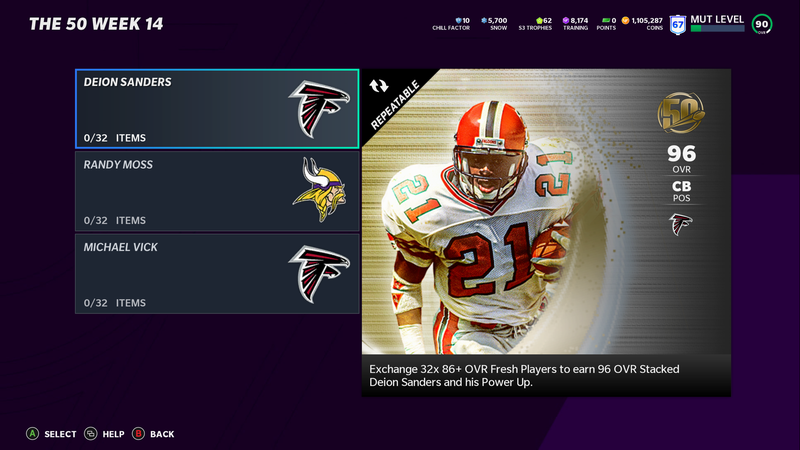 Challenges
Weekly 50
Play moments from the careers of this week's players that were selected for 'The 50'. If you have already earned the 88 possible Stars from Weeks 1-13, you can earn a NAT Fresh Week 14 Player by completing the following 6 challenges:
The 50 Week 14 - 6 Challenges, 3,000 Coins, 6 Stars possible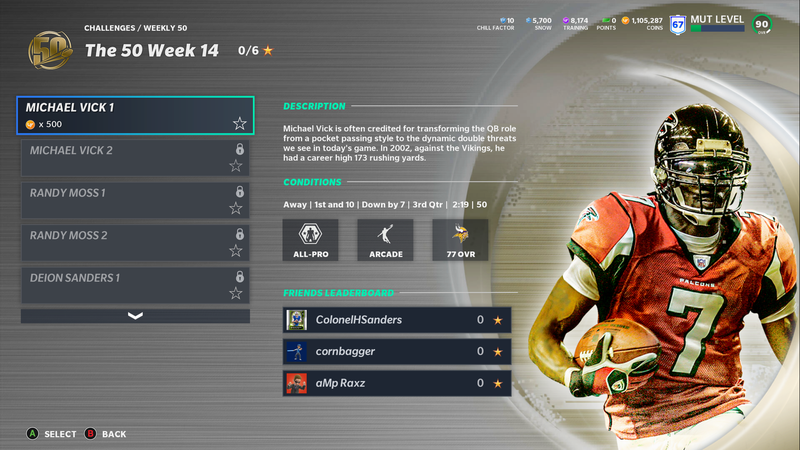 Will you be adding Vick, Moss, or Deion to your Ultimate Team? What are your predictions for the final 3 players left in 'The 50'?