Week 6 of 'The 50' is live in Madden Ultimate Team, featuring Julio Jones, Daunte Culpepper, and Albert Haynesworth. Julio Jones is a Route Runner WR Archetype with notable ratings of 91 SPD, 93 JMP, 92 SPC, and 92 SRR. Daunte Culpepper is a Strong Arm QB Archetype with just enough speed to keep the defense on their toes. His Stacked version has 85 SPD, 93 THP, 90 DAC, 90 RUN, and 89 SAC ratings. Albert Haynesworth is a Run Stopper DT Archetype with 74 SPD, 93 STR, 91 BSH, 91 TAK, 90 PMV, and 90 POW ratings. Check out all of the new Players, Sets, Challenges, and Store items released today with 'The 50' below:
For previous news articles for 'The 50' program, click the following: Week 1 | Week 2 | Week 3 | Week 4 | Week 5
Players
There are 3 versions of each player from 'The 50', a Stacked version (92 OVR), a Fresh version (82 OVR), and a Power Up item. You can exchange Fresh versions in Sets to receive Stacked versions of 'The 50' players.
Sets
The following new sets can be found in MUT under 'The 50' in the Sets section:
Julio Jones - Exchange any 32x 82+ Fresh Players to earn 92 OVR Stacked Julio Jones and his Power Up.
Daunte Culpepper - Exchange any 32x 82+ Fresh Players to earn 92 OVR Stacked Daunte Culpepper and his Power Up.
Albert Haynesworth - Exchange any 32x 82+ Fresh Players to earn 92 OVR Stacked Albert Haynesworth and his Power Up.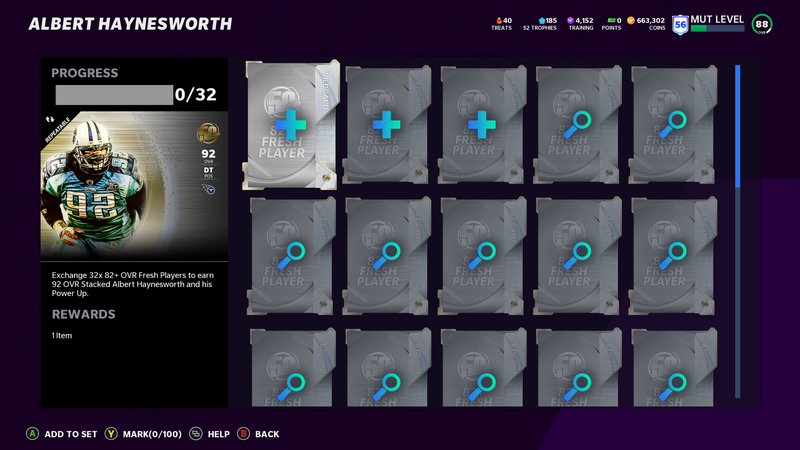 Challenges
Weekly 50
Play moments from the careers of this week's players that were selected for 'The 50'. If you earned the 40 possible Stars from Weeks 1-5, you can earn a NAT Fresh Week 6 Player by completing the following 6 challenges:
The 50 Week 6 - 6 Challenges, 3,000 Coins, 6 Stars possible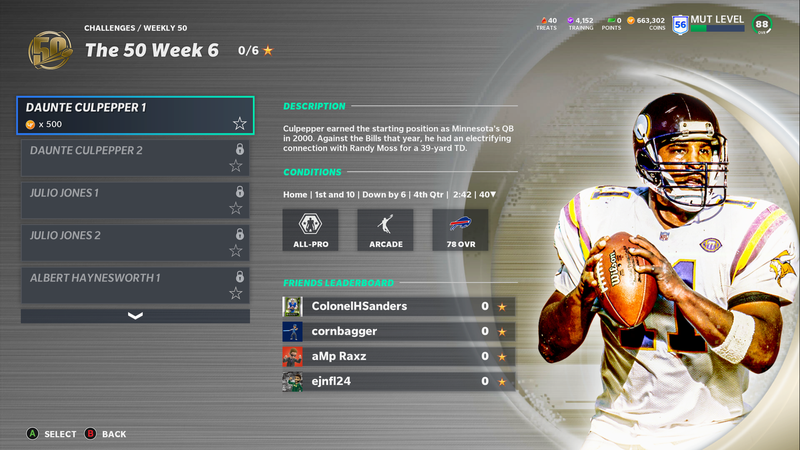 Store
The following new items can be found in the Store (cost listed first):
The 50 Fantasy Pack - Week 6: 120,000 Coins or 1,500 Points. Contains a choice of 1 of 2 81+ OVR Elite players OR 1x 82+ OVR Week 6 The 50 player, a choice of 2 of 4 71+ OVR Gold players or better and a choice of 4 of 7 62+ OVR Silver players or better. Limit of 10.
4x The 50 Fantasy Bundle - Week 6: 5,850 Points. Contains 4x The 50 Fantasy Packs and a topper of 4x 82+ OVR The 50 players. Limit of 4.
What are your thoughts on this week's release of 'The 50'?