Part II of the Autumn Blast Program is LIVE in MUT, featuring Master Night Train Lane and LTD Drew Brees. A new Thanksgiving Squads event released today that rewards Feast Food Collectibles, Fallen Leaves currency, and Series 3 Trophies daily! You can also get a head start on next week's Blitz promo by completing Turkey Bowl challenges and earning Blitz Boltz. Below is an overview of all the new Players, Sets, and Challenges in MUT today with Part II.
For a refresher on Part I of the Autumn Blast Program, CLICK HERE.
Players
Autumn Blast
Night Train Lane (Master)
Drew Brees (LTD)
Ryan Kelly
Jordan Poyer
Jimmy Smith
Jamison Crowder
James Daniels
Whitney Mercilus
Trey Burton
Jarrod Wilson
Antonio Gibson
William Gholston
Rashard Higgins
Eric Rowe
Sam Tevi
Nicholas Morrow
Michael Jordan
Clelin Ferrell
Jakob Johnson
Ben Gedeon
Autumn Aces
Earn Food Collectibles from Autumn Odyssey challenges to upgrade the following Autumn Aces from 80 to 92 OVR (similar to Power Up items):
Aaron Jones - 92 OVR
Austin Hooper - 92 OVR
Danielle Hunter - 92 OVR
Von Miller - 92 OVR
Sets
The following new set can be found in MUT with Part 2 of the Autumn Blast Program:
Master: Night Train Lane - Exchange 92 OVR Aaron Jones, Austin Hooper, Danielle Hunter, and Von Miller for 94 OVR Night Train Lane. You will also get Lane's Power Up item and NAT versions of all four 92 OVR Autumn Aces.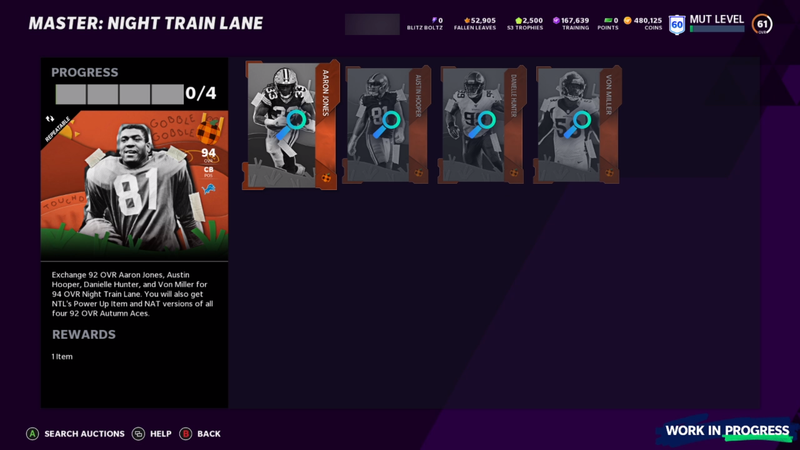 Challenges
Madden the Gathering
Spend some time with your Madden family this holiday season. Play these cooperative only challenges or Squads event to earn daily Recipe Cards and an 80 OVR Autumn Ace (NAT) that you can upgrade to 92 OVR. New Madden the Gathering challenges will be released daily, so keep an eye on these each day you play. These challenges end at 10 AM ET on 11/30.
The First Gathering - 5 Challenges, 3,750 Coins, 15 Stars possible
Milestone Rewards
Earn Fallen Leaves currency for every 5 Stars achieved in Madden the Gathering challenges. A total of 2,350 Fallen Leaves can be earned by reaching the maximum of 150 Stars for this event.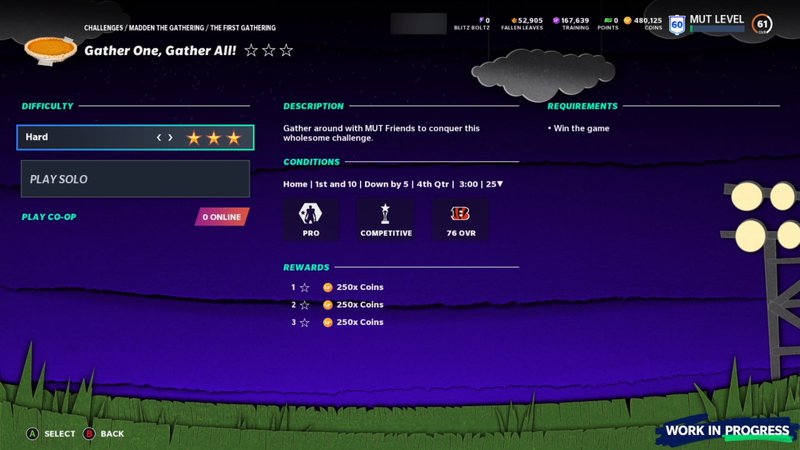 The Turkey Bowl
It's Kids vs. Dads in the Turkey Bowl. Complete these challenges to earn The Turkey Bowl Trophy of Champions which will turn into an Autumn Blast player at 8 PM ET on 11/26. Also, get a head start on the Blitz promo by earning Blitz Boltz currency.
Turkey Bowl - 21 Challenges, 42,000 Coins, 84 Stars possible
Milestone Rewards
8 Stars: 20x Blitz Boltz
16 Stars: 50x Blitz Boltz
32 Stars: 50x Blitz Boltz
40 Stars: Autumn Blast Uniforms and 100x Blitz Boltz
48 Stars: 100x Blitz Boltz
56 Stars: 100x Blitz Boltz
64 Stars: 100x Blitz Boltz
72 Stars: 100x Blitz Boltz
84 Stars: 200x Blitz Boltz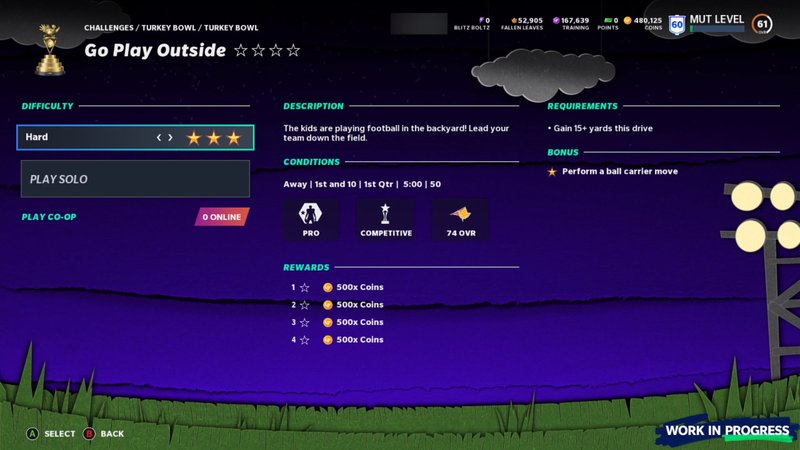 Thanksgiving Squads
Spend some quality time with the squad in traditional college overtime rules! Come back each day to win another Feast Food collectible. This event can be located in MUT under the "Squads" tile and then "Squads Seasons".
Milestone Rewards
The following rewards reset daily:
1 Win: 30x Fallen Leaves
3 Wins: 1x Feast Food collectible
6 Wins: 10x S3 Trophies and 1,000 Coins
9 Wins: 20x S3 Trophies
Are you looking for help taking on the new Autumn Blast Co-op and Squads challenges in MUT? Head over to our forums or join the Muthead Discord channel below to find teammates!
-Forums Thread: Looking for Teammates Group
-Join the Muthead Discord
What are your thoughts on Part II of the Autumn Blast Program?