Brrrrrr...its cold in here. I said there must be some Zero Chill in the atmosphere (anyone? or was that reference too old?). It's winter and it's time to get wild with the Zero Chill program. This is one of the coolest programs of the year (get it?) and this first release has some must have items. Let's take a look: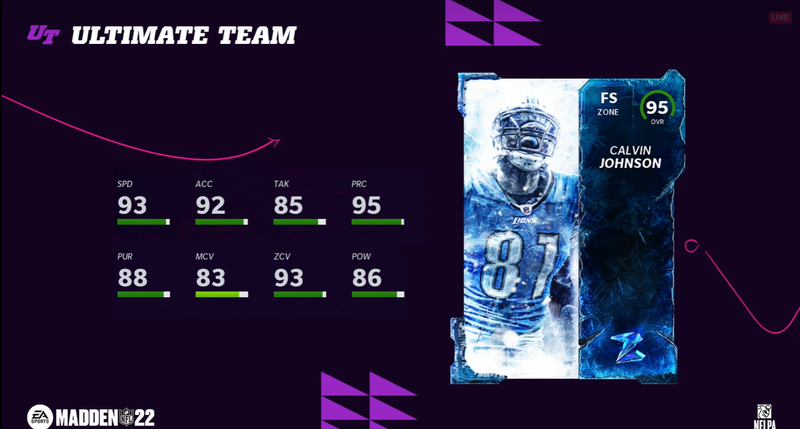 ZERO CHILL PLAYERS
Champions

Peyton Manning - Broncos, Colts (Manning is the first QB to get HRM and Gunslinger)
Calvin Johnson (FS) - Lions

Heroes

Budda Baker - Cards
Marvin Jones Jr. - Lions, Bengals, Jags
Lane Johnson - Eagles
T.J. Watt - Steelers

Elites

91 OVR - Jimmy Garoppolo
89 OVR - Derrick Brown
89 OVR - Taylor Rapp
87 OVR - Latavius Murray
87 OVR - Kwon Alexander
85 OVR - Ian Thomas
85 OVR - Tashuan Gipson Sr.
83 OVR - Marco Wilson
83 OVR - Danny Amendola

Ugly Sweater

Casey Hayward Jr
Devonta Smith

To get these players, win a game in House Rules. These can be upgraded to a peak 90 OVR using Yarn Collectibles earned from playing House Rules. You can also exchange ornaments in the yarn collectible sets to earn Yarn Collectibles.

House Rules/Challenge Earned Players

Cordarrelle Patterson (CB)

Earn Patterson by winning 30 games in the current House Rules

Randy Moss

Earn Moss by completing the Welcome to Zero Chill challenges
CURRENCY
Snowflakes - Challenges in the Zero Chill program grant you snowflakes. These Snowflakes can be used to gather presents and to purchase ZC players in the store. You also get 2500 Snowflakes by logging in everyday until Jan. 5
Ornaments - Complete Missions to earn ornaments. Can be used in the MUTmas Tree Sets.
Yarn Collectibles - Earned by winning games in Hosue Rules. Use these collectible to upgrade the Ugly Sweater Players.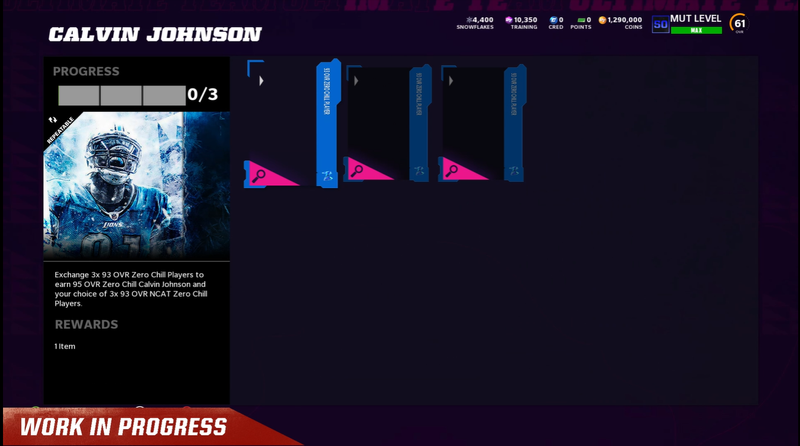 SETS
PLAYER SETS

Zero Chill Champions (Manning and Johnson)

Exchange 3x 93 OVR ZC Players to earn the respective champion and a 93 OVR Hero Fantasy Pack, which lets you pick 3x NCAT 93 OVR Heroes

Zero Chill Heroes

Exchange 2x 91 OVR ZC Players and 1x 87 OVR ZC player to earn the respective ZC Hero

91 OVR ZC Player

Exchange 2x 89 OVR ZC and 1x 85 OVR ZC players

89 OVR ZC Player

Exchange 2x 87 OVR ZC and 1x 83 OVR ZC players

87 OVR ZC Player

Exchange 2x 85 OVR ZC and 2x 79 OVR ZC players

85 OVR ZC Player

Exchange 2x 83 OVR ZC and 1x 78-79 OVR ZC players

83 OVR ZC Player

Exchange 3x 79 OVR ZC and 4x 78 OVR ZC players

78+ OVR ZC Player

Exchange 6x 78-79 OVR ZC and 6x 75-79 OVR ZC players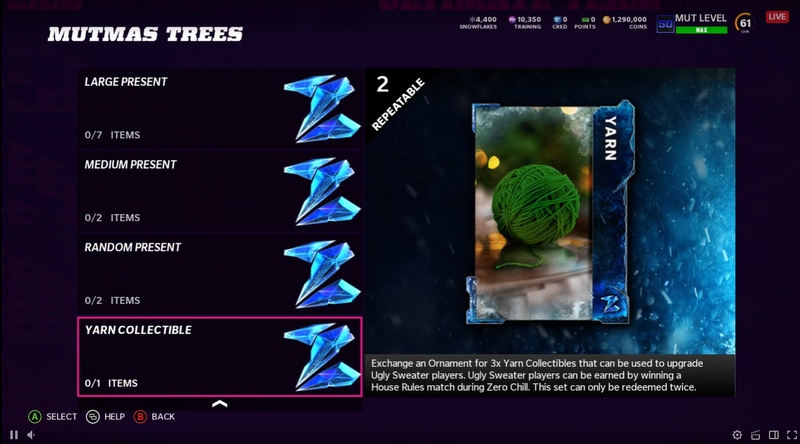 MUTMAS TREE SETS

Yarn Collectibles

Exchange 1x ornament for 3x Yarn Collectibles. Limit 2

85+ OVR ZC Player

Exchange 2x Ornaments for an 85+ OVR ZC Player

78+ OVR ZC Player

Exchange 1x Ornament for a 78+ OVR SC Player.

Large Present

Exchange 7x ornaments. Limit 1

Medium Present

Exchange 2x Ornaments. Limit 2

Random Present
93 OVR NCAT ZC Player

Exchange 3x ornaments for a NCAT 93 OVR Fantasy Pack

93 OVR ZC Player (auctionable and tradeable)

Exchange 12x ornaments for a 93 OVR Fantasy Pack. Limit 2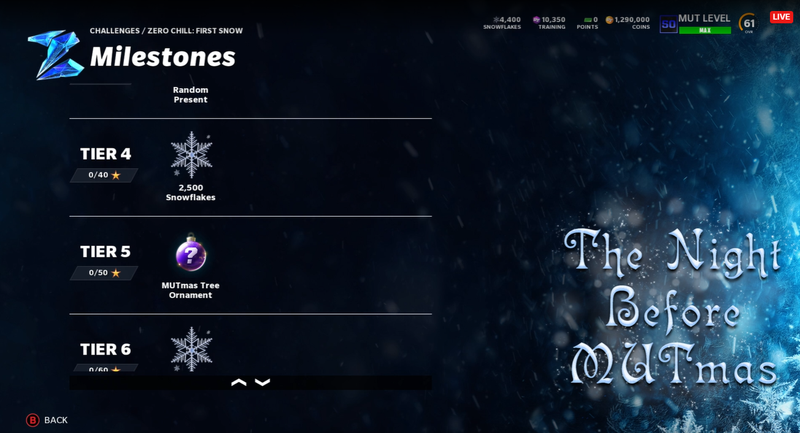 MISSIONS
The Night Before MUTmas

30 challenges, 90 stars possible, 9000 coins
CHALLENGES
Welcome to Zero Chill

15 Challenges, 15 stars possible, 15 Zero Chill players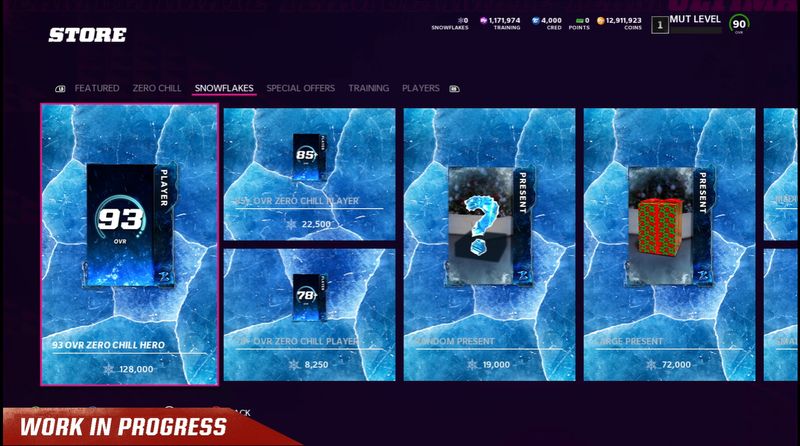 STORE OFFERS
MICROSOFT POINT/COIN OFFERS

Zero Chill Pack - 500 MPs or 30k coins. Contains 1x 78+ ZC Player, 1x 80+ Elite player, and 3x 71+ gold or better players
18x Zero Chill Bundle- 8900 MPs, 18x ZC Packs. 2x 85+ ZC toppers, 1x 93 OVR ZC topper. Limit 3
13x Zero Chill Bundle- 5850 MPs, 13 ZC Packs and 7x 78+ ZC toppers. Limit 4
5x Zero Chill Bundle- 2200 MPs, 5 ZC Packs and 1x 78+ ZC toppers.
Zero Chill Starter Pack- 500 MPs, Contains 2x 85+ ZC Players. Limit 1
Icebreaker Bundle- 1050 MPs. Contains 1x 91 OVR ZC Player, 1x 89 OVR ZC Player, 1x 87 OVR ZC Player, and 1x 85 OVR ZC Player. Limit 1. Limited time offer (24 hours)
93 OVR ZC Hero- 1500 MPs, 1x 93 ZC Player Fantasy Pack. Limit 1

SNOWFLAKE OFFERS

128,000 Snowflakes - 93 OVR ZC Hero
72,000 Snowflakes - Large Present
24,000 Snowflakes - Medium Present
22,500 Snowflakes - 85+ OVR ZC Player
19,000 Snowflakes - Random Present
8,800 Snowflakes - Small Present
8,250 Snowflakes - 78+ OVR ZC Player