Theme Diamonds 2.0 and Journey Part 3 combined forces and entered MUT today along with Series 5! Every team is represented in today's content release along with Theme Diamond Master Night Train Lane. Below you will find an overview of everything you need to know:
Theme Diamond Master
If you are able to complete all 32 Theme Diamonds sets (details below), you will be rewarded with Theme Diamonds Master Night Train Lane. Players will be able to equip Theme Diamond 2 Master Night Train Lane with x3 Team Chemistry for all the teams he played on (Rams, Cardinals, Lions) or x1 Team Chemistry from any of the other 29 NFL Teams. Check out his item and full ratings below: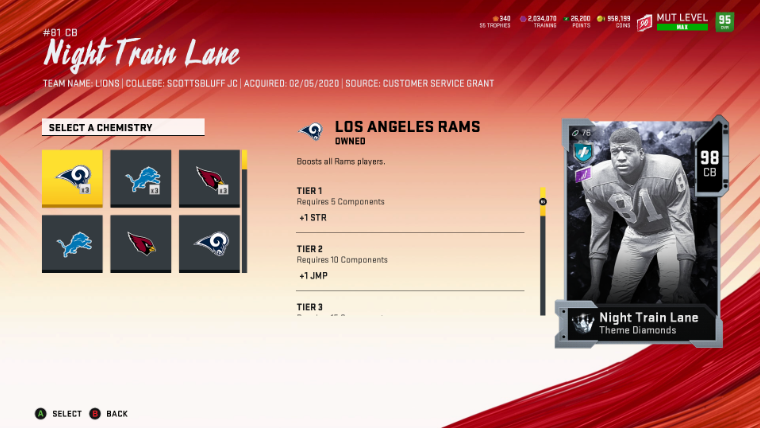 Theme Diamond Players
Bears - Mike Brown
Bengals - Taylor Mays
Bills - Eric Wood
Broncos - Rod Smith
Browns - Josh Cribbs
Buccaneers - Simeon Rice
Cardinals - Anquan Boldin
Chargers - Antonio Cromartie
Chiefs - Will Shields
Colts - Edgerrin James
Cowboys - Erik Williams
Dolphins - Olindo Mare
Eagles - Brian Westbrook
Falcons - Alge Crumpler
49ers - Garrison Hearst
Giants - Victor Cruz
Jaguars - Tony Boselli
Jets - Joe Klecko
Lions - Johnnie Morton
Packers - Gilbert Brown
Panthers - Kris Jenkins
Patriots - Logan Mankins
Raiders - Nnamdi Asomugha
Rams - Mike Jones
Ravens - Jamal Lewis
Redskins - Doug Williams
Saints - Tracy Porter
Seahawks - Marcus Trufant
Steelers - Joey Porter
Texans - Brian Cushing
Titans - Derrick Mason
Vikings - Daunte Culpepper
Theme Diamond Sets
Each of the 32 Theme Diamonds 2.0 has a corresponding set. You will need to add between 12 and 14 specific player items from the Theme Diamond player's team in order to complete his set. Completing a Theme Diamond 2.0 set will reward you with that team's Theme Diamond 2.0 player, his Power Up item, and that team's completion token for the Theme Diamond 2.0 Master Set. Below is an example of a Theme Diamond 2.0 set: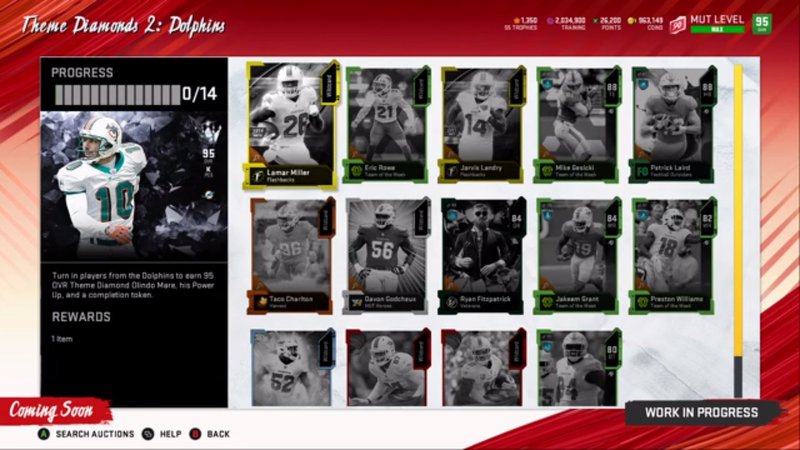 Theme Diamond Journey Part 3
Take a Journey against the new Theme Diamonds 2.0 players, and play a game with each of them to see their capabilities. Complete the following sequences to earn players needed for Theme Diamonds 2.0 Sets and the Journey 3 Completion Token:
Play with Diamonds: 32 Challenges, 38,400 Coins, 160 Stars possible
Diamond Showdown: 32 Challenges, 38,400 Coins, 160 Stars possible
Milestone Rewards
60 Stars: NAT Player Required in TD 2.0 Sets (87-90 OVR)
120 Stars: NAT Player Required in TD 2.0 Sets (87-91 OVR)
200 Stars: NAT Player Required in TD 2.0 Sets (87-92 OVR)
320 Stars: Journey 3 Completion Token
Which Theme Diamond will you be completing first?