Theme Builders 2.0 was released today in Ultimate Team, featuring new Sets, Solos, Store items, and 7 new player items for each of the 32 NFL teams! Each team has an offensive and defensive MVP along with 5 additional player items. Not only do all of you theme-teamers out there get 7 new players to upgrade your squad, but both team MVPs also receive 2x team chemistry! Below you will find each team's offensive MVP, defensive MVP, and a link to view all of that team's TB2 items in the database:
Players
Bears - Allen Robinson - Kyle Fuller - All Bears TB2
Bengals - Tyler Boyd - Carlos Dunlap - All Bengals TB2
Bills - John Brown - Jordan Poyer - All Bills TB2
Broncos - Courtland Sutton - A.J. Johnson - All Broncos TB2
Browns - Jarvis Landry - Sheldon Richardson - All Browns TB2
Buccaneers - Mike Evans - Shaquil Barrett - All Buccaneers TB2
Cardinals - Christian Kirk - Jordan Hicks - All Cardinals TB2
Chargers - Keenan Allen - Melvin Ingram III - All Chargers TB2
Chiefs - Damien Williams - Frank Clark - All Chiefs TB2
Colts - Quenton Nelson - Darius Leonard - All Colts TB2
Cowboys - Dak Prescott - DeMarcus Lawrence - All Cowboys TB2
Dolphins - Ryan Fitzpatrick - Jerome Baker - All Dolphins TB2
Eagles - Carson Wentz - Fletcher Cox - All Eagles TB2
Falcons - Alex Mack - Deion Jones - All Falcons TB2
49ers - Joe Staley - Fred Warner - All 49ers TB2
Giants - Saquon Barkley - Antoine Bethea - All Giants TB2
Jaguars - Gardner Minshew II - Yannick Ngakoue - All Jaguars TB2
Jets - LeVeon Bell - Brian Poole - All Jets TB2
Lions - Kenny Golladay - Damon Harrison Sr - All Lions TB2
Packers - Aaron Jones - Kenny Clark - All Packers TB2
Panthers - D.J. Moore - Shaq Thompson - All Panthers TB2
Patriots - James White - Devin McCourty - All Patriots TB2
Raiders - Darren Waller - Tahir Whitehead - All Raiders TB2
Rams - Cooper Kupp - Michael Brockers - All Rams TB2
Ravens - Mark Ingram II - Earl Thomas III - All Ravens TB2
Redskins - Brandon Scherff - Quinton Dunbar - All Redskins TB2
Saints - Ryan Ramczyk - Cameron Jordan - All Saints TB2
Seahawks - Tyler Lockett - K.J. Wright - All Seahawks TB2
Steelers - Alejandro Villanueva - T.J. Watt - All Steelers TB2
Texans - Laremy Tunsil - Justin Reid - All Texans TB2
Titans - Ryan Tannehill - Jurrell Casey - All Titans TB2
Vikings - Dalvin Cook - Eric Kendricks - All Vikings TB2
Sets
The following new Sets have been added to Ultimate Team with Theme Builders 2.0 (players used in MVP sets are NOT returned):
Offensive MVP- Exchange all 5 non-MVP TB2 player items to earn that team's Offensive MVP. Set available for all 32 teams.
Defensive MVP- Exchange all 5 non-MVP TB2 player items to earn that team's Defensive MVP. Set available for all 32 teams.
90-95 OVR Theme Builders 2 Exchange- Exchange any 7x 85-87 OVR Theme Builders 2 players to earn a random 90-95 OVR Theme Builders 2 player.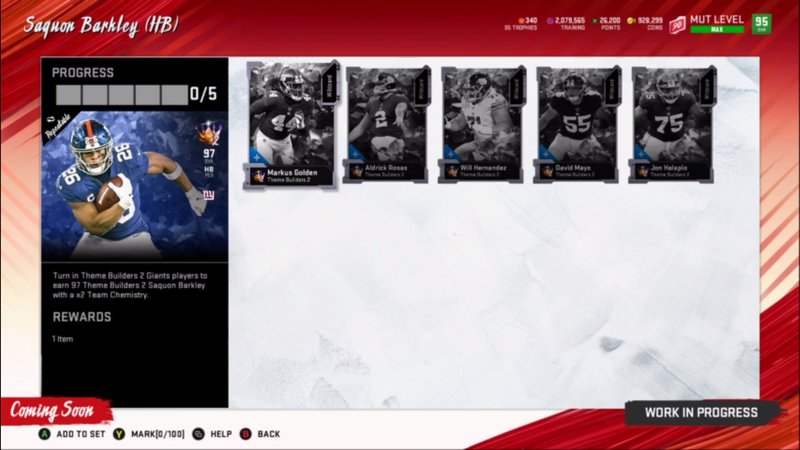 Solos
Play Theme Builder 2.0 Challenges to earn a NAT 95 OVR TB2 Fantasy Pack at 80 Stars and an 87 OVR TB2 Fantasy Pack at 128 Stars. Complete every challenge in the "Dream Builders" sequence to unlock "Living The Dream". Once unlocked, "Living The Dream" Challenges can be repeated as many times as you would like to continue earning rewards.
Dream Builders: 32 Challenges, 36,000 Coins, 128 Stars possible
Living The Dream: 32 Challenges, 1,000 Coins and 1x 70+ OVR Player per game possible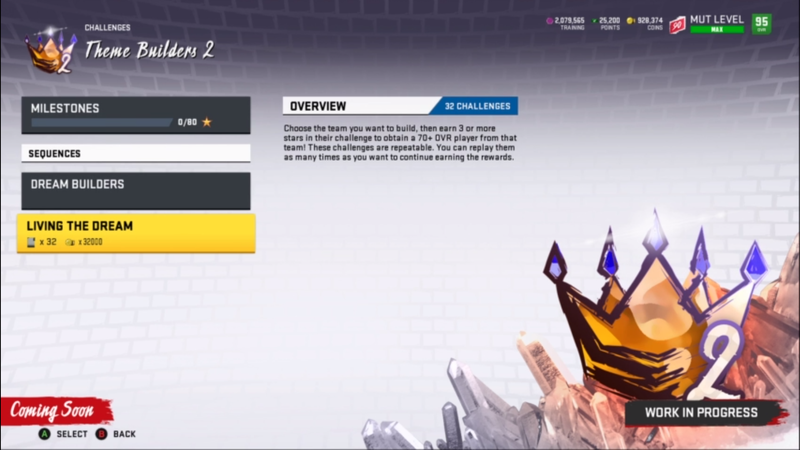 Store
The following new offers can now be found in the Store:
90-95 OVR Theme Builders Player- 150 Points. Contains 1x 90-95 OVR Theme Builders 2 Player. Limit of 1.
Theme Builders Pack- 60,000 Coins or 1,050 Points. Contains 2x 85+ OVR Theme Builders 2 Players and 5x 70+ OVR Gold or better players.
7x Theme Builders Bundle- 5,850 Points. Contains 7x Theme Builders Packs. Limit of 3.
12x Theme Builders Bundle- 12,000 Points. Contains 12x Theme Builders Packs and a topper containing 2x 90+ OVR Theme Builders 2 Players. Limit of 2.
97 OVR Theme Builders MVP- 52,000 Training. Contains 1x 97 OVR Theme Builders 2 MVP.
85+ OVR Theme Builders Player- 2,450 Training. Contains 1x 85+ OVR Theme Builders 2 Player.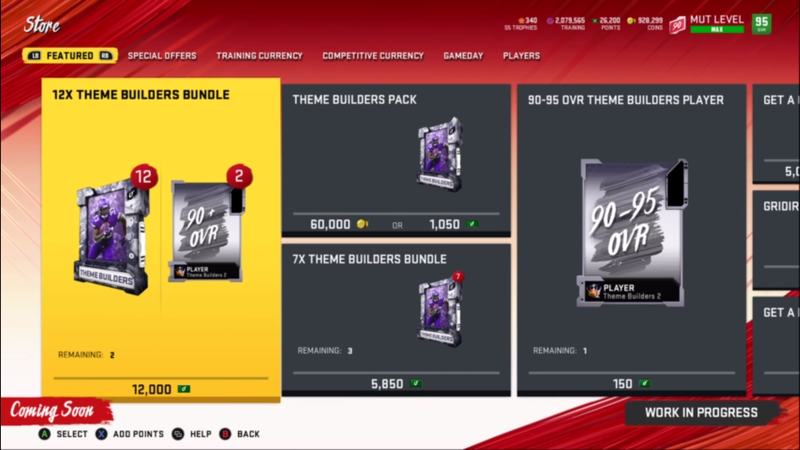 What are your thoughts on today's Theme Builders 2.0 Program? Let us know in the comments below.