The first release of this year's NFL Honors Program dropped this morning, featuring Offensive Rookie of the Year Justin Herbert and Defensive Rookie of the Year Chase Young. Series 4 Team Standouts went live today and each team is represented with a 95 OVR player that stood out for their respective squad during the final few weeks of the NFL season. Along with all of today's player items, new sets and challenges were also released. Check out all of today's new content in MUT below:
Players
NFL Honors Release #1
The Offensive and Defensive Rookies of the Year have been released into packs for the next 48 hours. Check out both LTD items and their ratings below:
Team Standouts
Along with the following new Team Standout player items, each player who did not previously have a Power Up item in MUT now has one. You can view each player's Power Up by clicking their Standouts player item below and selecting "Power Up" under "Other Versions".
Bears - Danny Trevathan (MLB)
Bengals - Vonn Bell (SS)
Bills - Dion Dawkins (LT)
Broncos - Josey Jewell (MLB)
Browns - Jarvis Landry (WR)
Buccaneers - Ali Marpet (LG)
Cardinals - D.J. Humphries (LT)
Chargers - Kenneth Murray Jr (ROLB)
Chiefs - Anthony Hitchens (MLB)
Colts - Kenny Moore II (CB)
Cowboys - Ezekiel Elliott (HB)
Dolphins - Mike Gesicki (TE)
Eagles - Jalen Mills (SS)
Falcons - A.J. Terrell (CB)
49ers - Jimmie Ward (FS)
Giants - Sterling Shepard (WR)
Jaguars - Joe Schobert (MLB)
Jets - Neville Hewitt (MLB)
Lions - Taylor Decker (LT)
Packers - Adrian Amos (SS)
Panthers - D.J. Moore (WR)
Patriots - J.C. Jackson (CB)
Raiders - Rodney Hudson (C)
Rams - Andrew Whitworth (LT)
Ravens - Mark Andrews (TE)
Saints - Cameron Jordan (LE)
Seahawks - Chris Carson (HB)
Steelers - Diontae Johnson (WR)
Texans - Will Fuller V (WR)
Titans - Desmond King II (CB)
Vikings - Kirk Cousins (QB)
Washington - Montez Sweat (RE)
Sets
Team Standout player items AND their Power Ups can be acquired by finishing their respective set. There is one set for each player and they are repeatable. Each set requires the following Team of the Week items to complete:
2x 90-92 OVR TOTW Player
8x 86-89 OVR TOTW Player
16x 82-85 OVR TOTW Player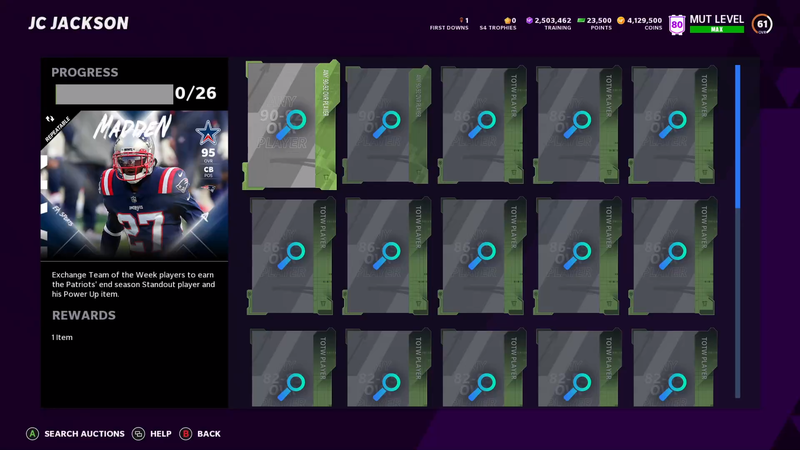 Challenges
Play through a highlight moment from each team's Standouts player. Complete all 32 challenges to earn your choice of a 95 OVR Standouts player (NAT) to add to your team.
Team Standouts: Series 4 - 32 Challenges, 17,450 Coins, 128 Stars possible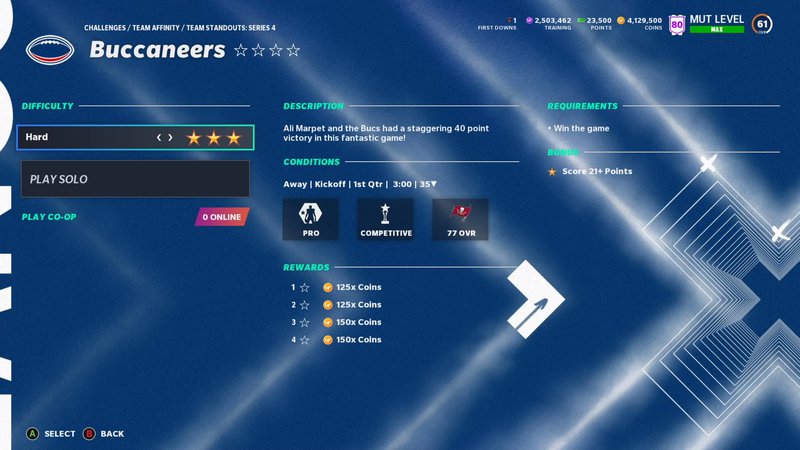 In Other News
If you have already acquired the 3 players needed for the 97 OVR Derwin vs. The World Set (Ramsey, Chubb, Allen), this set will be available to complete tonight, February 9th around 7 PM ET. The 97 OVR Derwin James item you receive will be Power Up eligible.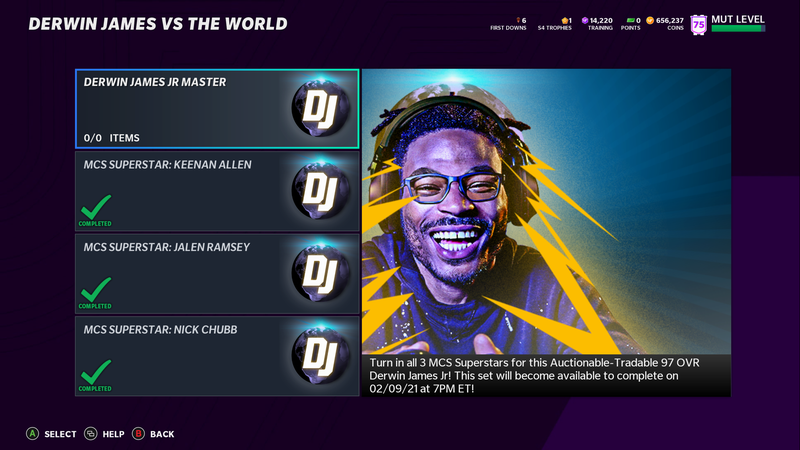 What are your thoughts on NFL Honors release #1 and Series 4 Team Standouts? Do you agree with the player selected for your favorite team?