The matchups have been set and the battle lines have been drawn! Muthead's very first Pro-Am Madden Tournament presented by America's Navy kicks off tonight at 8 pm ET. Tonight's event features two teams, each led by a captain from America's Navy esports Goats & Glory team, competing in head-to-head matches to determine which team will split the $10,000 winner takes all prize.
Over the past 2 weeks, team captains Chief Smith (Team Goats) and CTN2 Bufford (Team Glory) have drafted their teammates (2x NFL Pros and 2x Madden Pros), the NFL teams each squad will use, and have received coaching from their respective Madden Pros in preparation for tonight's event. Check out the matchups below: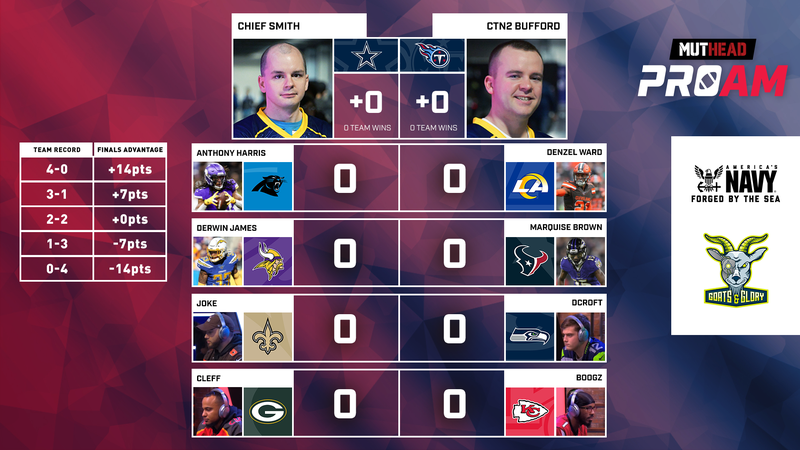 Game 1: Anthony Harris (Panthers) vs. Denzel Ward (Rams)
Game 2: Derwin James (Vikings) vs. Marquise Brown (Texans)
Game 3: Joke (Saints) vs. DCroft (Seahawks)
Game 4: Cleff (Packers) vs. Boogz (Chiefs)
Game 5 Finals: Chief Smith (Cowboys) vs. CTN2 Bufford (Titans)
The winners of games 1-4 will help determine the starting score of the team captain finals game between Chief Smith and CTN2 Bufford. If a team goes 4-0, their captain will begin the final game with a 14 point lead. If a team goes 3-1, they will begin with a 7 point lead. If the teams split the first 4 games (2-2), the score will begin tied for the final between captains.
Which team do you think will take home the prize money and bragging rights? Team Goats or Team Glory? Share your predictions with us in the comments below and tune in to MutheadTV tonight at 8 pm ET to find out!