The regular season is in the books and six of the sixteen competitors in Muthead League Season 8 have advanced to the playoffs to compete for their share of the $15,000 prize pool. Kiv, Wesley, TreyThomas, and Cleff each won their divisions while Jwall and Pavan came away with their conference wildcards.
While the All-American Boneless conference was fairly straightforward when it came to the playoff picture, everything came down to last Saturday's Muthead League Primetime games for the National Bone-in conference. TreyThomas, Pavan, and Drini all had the opportunity to win their division with one game to go.
Pavan was able to get the job done with a 16-6 win over Joke to punch his ticket to the playoffs. All eyes were then on Drini vs. TreyThomas. Drini needed a convincing 10+ point win over TreyThomas to earn a playoff berth through point differential, but TreyThomas came away with the big win.
With the 1 seed in their conferences, Wesley and Cleff secured a first-round bye in the playoffs and a minimum cash prize of $1,000.
Here is the Muthead League Season 8 playoff bracket: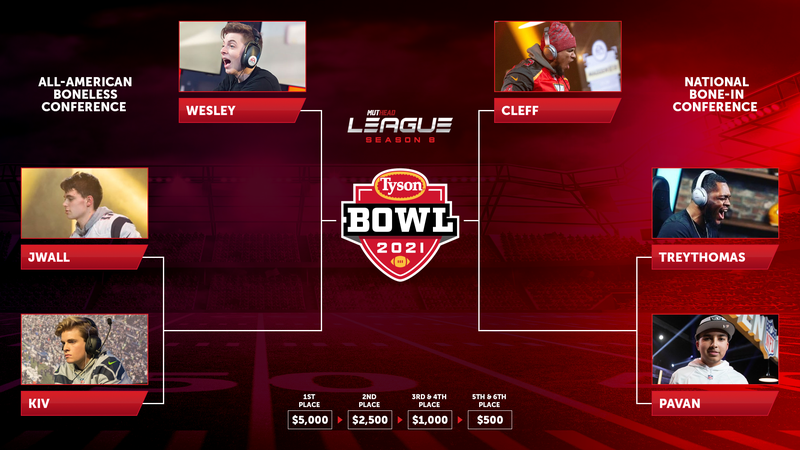 Tune in to twitch.tv/mutheadtv this Saturday starting at 8:00 PM ET to catch all of the Muthead League playoff action. The conference champions will meet in the Tyson Bowl to crown the overall champion of Muthead League Season 8.
Cleveland Browns legend, Joe Thomas, will be joining the broadcast to help call the action alongside Nick Mizesko and Boogz. Tune in for a chance to win signed Super Bowl gear including Tom Brady and Rob Gronkowski signed jerseys, a Travis Kelce signed helmet, and more!