A new program released in MUT today under Team Affinity called "Team Standouts". All teams are represented in today's program with an 89 OVR Standouts player item for a player that has stood out for their team through the first 4 weeks of the NFL season. Every player that has been selected as the Standout for their respective team now has a Power Up item in the game as well! Check below to see all of the Team Standouts, set requirements, and new solo challenges available.
Players
Along with the following new Team Standout player items, each player who did not previously have a Power Up item in MUT now has one. You can view each player's Power Up by clicking their Standouts player item below and selecting "Power Up" under "Other Versions".
Bears - Kyle Fuller (CB)
Bengals - William Jackson III (CB)
Bills - Josh Allen (QB)
Broncos - Justin Simmons (FS)
Browns - Kareem Hunt (HB)
Buccaneers - Jason Pierre-Paul (LOLB)
Cardinals - Kyler Murray (QB)
Chargers - Austin Ekeler (HB)
Chiefs - L'Jarius Sneed (CB)
Colts - Darius Leonard (LOLB)
Cowboys - Aldon Smith (LE)
Dolphins - Jerome Baker (MLB)
Eagles - Brandon Graham (LE)
Falcons - Calvin Ridley (WR)
49ers - Fred Warner (MLB)
Giants - Blake Martinez (MLB)
Jaguars - Myles Jack (ROLB)
Jets - Marcus Maye (FS)
Lions - Duron Harmon (FS)
Packers - Allen Lazard (WR)
Panthers - Shaq Thompson (MLB)
Patriots - Julian Edelman (WR)
Raiders - Derek Carr (QB)
Rams - John Johnson III (SS)
Ravens - Chuck Clark (SS)
Saints - Alvin Kamara (HB)
Seahawks - D.K. Metcalf (WR)
Steelers - Mike Hilton (CB)
Texans - Benardrick McKinney (MLB)
Titans - Kenny Vaccaro (SS)
Vikings - Eric Kendricks (MLB)
Washington - Jon Bostic (MLB)
Sets
Team Standout player items AND their Power Ups can be acquired by finishing their respective set. There is one set for each player and they are repeatable. Each set requires the following Team of the Week items to complete:
1x 86-88 OVR TOTW Player
4x 82-84 OVR TOTW Player
9x 78-80 OVR TOTW Player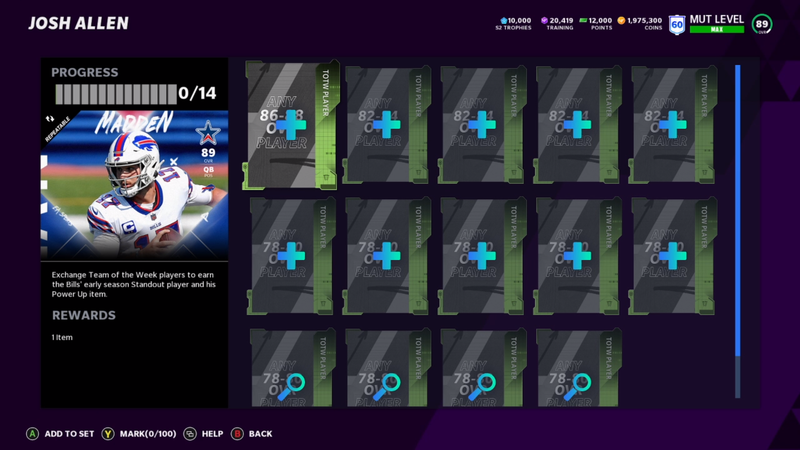 Challenges
Play through a highlight moment from each team's Standout player. Complete all 32 challenges to earn your choice of an 89 OVR Standouts player (NAT) to add to your team! Playing 32 challenges may seem like a daunting task but these appear to go by quickly. Also, if you still need Challenge Stars for Series 2 Sam Mills objectives, this is an easy way to get them out of the way. You must be at least MUT level 15 in order to access these challenges.
Team Standouts: Series 2 - 32 Challenges, 17,450 Coins, 128 Stars possible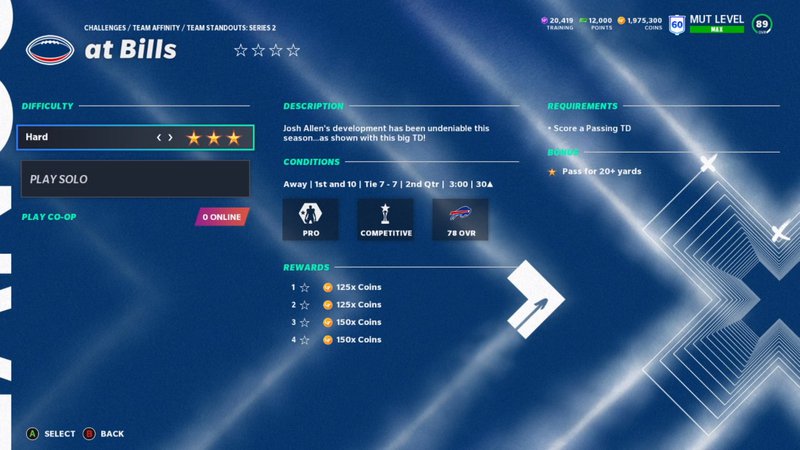 What are your thoughts on Team Standouts? Do you agree with the player selected from your favorite team?