If you're looking for a solid starting QB for your MUT team, look no further than 85 OVR Lamar Jackson! All you need to do in order to add 85 OVR Lamar to your Ultimate Team is score 5 total touchdowns in Superstar KO mode. Considering the stats for this item are similar to Lamar's Core Elite item and it's very easy to obtain, this is a great way to get your team headed in the right direction early on. You will have approximately 16 days from now to earn 85 OVR Lamar Jackson before the offer expires. This item is non-auctionable/non-tradeable (NAT).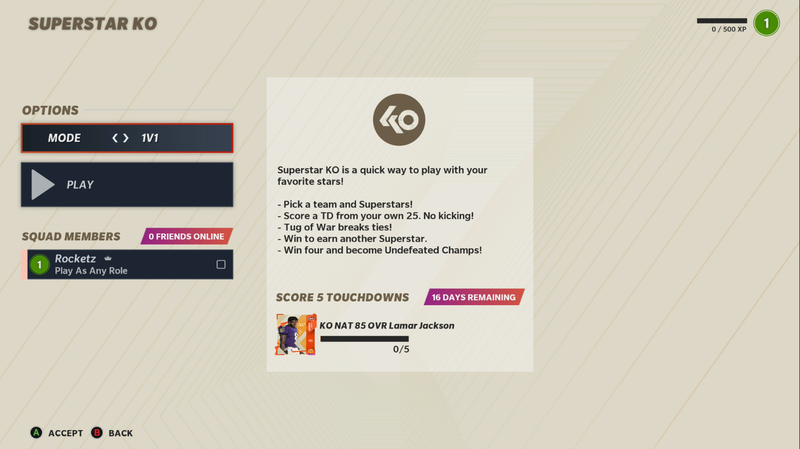 What is Superstar KO?
Superstar KO Mode was first introduced in Madden NFL 20 and can be played in 1v1, 2v2, or 3v3 using a mix of Superstar X-Factors, Legends, and Icons. Each matchmaking queue is unique and will only match you against an opponent with the same number of players. Once you enter the game, each team gets a drive from their own 25-yard line. If you can score a touchdown, you must go for two. Once your drive is over, your opponent takes over with the same goal. If they match your score, we go to a tiebreaker. Otherwise, the game is over. If the game is still tied after each team's possession, the game goes to OT where Tug-of-War decides a winner. In Tug-of-War the ball is placed at the 50-yard line and each team alternates plays on offense until someone scores or plays run out. If no team scores, the winner will be the team that made it closest to their opponent's endzone.
For more details on Superstar KO, check out our introductory news article from last season.
What are your thoughts on the 85 OVR version of Lamar Jackson? Will you be adding him to your Ultimate Team?