The time has come for EA to show their appreciation for the fans that began their journey at launch to those just beginning their journey. Play through challenges that release each Friday until 5/29 to earn a 99 OVR NAT Golden Ticket player of your choice! Feel free to complete these challenges at your own pace since there is no expiration date associated with these challenges. The following reward tiers are available for completing Fan Appreciation Challenges:
35 Stars- 87 OVR NAT Theme Builders 2.0 Player
75 Stars- 90 OVR NAT Theme Builders 2.0 Player
120 Stars- 99 OVR NAT Golden Ticket (Fantasy Pack)
150 Stars- 5,000 Coins
To view a full list of Golden Tickets currently available in the Muthead Database, click here.
***Kraelo confirmed the following upcoming Golden Tickets today on GMM: Quincy Enunwa, Keith Bulluck, Anthony Barr, Brian Dawkins
Challenges
The following Challenge sequence was released today:
Week 1: Video Game Facts- 10 Challenges, 8,500 Coins, 50 Stars possible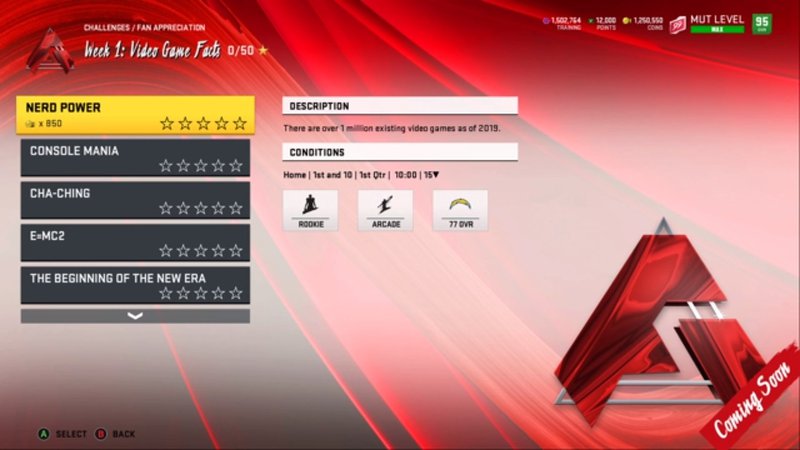 Store Offers
The following new offers can be found in the Store as part of Fan Appreciation and will refresh each week (Cost listed first):
Fan Appreciation Pack- 50,000 Coins or 500 Points. Contains 1x 86+ OVR Draft Player, 1x 86+ OVR Ultimate Legends player, and 1x 86+ OVR Elite Player. Limit of 5.
5x Fan Appreciation Bundle- 2,200 Points. Contains 5x Fan Appreciation Packs. Limit of 2.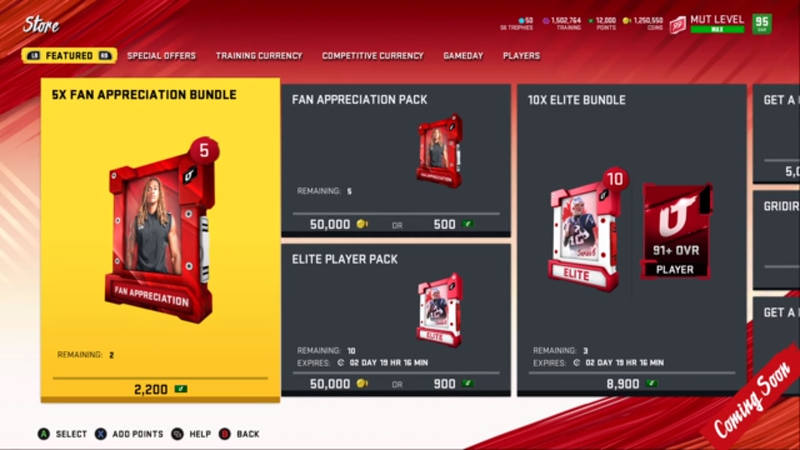 Which Golden Ticket will you select if you reach 120 Stars? Share your thoughts on Fan Appreciation with us in the comments below.