Tonight on the EAMaddenNFL Twitch Channel, Jake Stein and Agent K gave the community a sneak preview of what to expect in this year's version of Madden Ultimate Team. Below you will find links to the rebroadcast/Gridiron Notes and a summary of key highlights.
To watch a rebroadcast of the Madden Ultimate Team stream, Click Here.
To view the full Gridiron Notes for today's article, Click Here.
To view all MUT 21 players in the Muthead Database, Click Here.
KEY HIGHLIGHTS
ABILITY CAPS
A new addition to this year's Madden Ultimate Team is "Ability Caps". This new feature allows players to customize the Superstar Abilities equipped on their team how they see fit. Every Ability will have an Ability Point (AP) cost associated with it and there will be an AP limit for offense, defense, and special teams. Different Abilities will have different AP costs as well as different AP costs depending on the player's archetype. There will be an AP cap of 10 at launch and will see occasional increases throughout the year. The following example was provided in the Gridiron Notes:
Example: For an Improvisor QB, Redzone Deadeye is 1 AP while Escape Artist is 3 AP. Additionally, Hot Route Master is 2 AP for a Field General QB but is 4 AP for a Scrambling QB.
Each player will get a maximum of 5 Ability Slots that are unlocked at the following player OVR's:
80 OVR: Tier 1 Ability Slot
85 OVR: Tier 2 Ability Slot
90 OVR: Tier 3 Ability Slot
98 OVR: Tier 3 Ability Slot
99 OVR: Tier 3 Ability Slot
X-Factors will exist in the AP system as well. Default X-Factors will cost 0 AP and additional X-Factors could cost AP later to help with balance. There will still be a maximum cap of 3 X-Factors on each side of the ball just like last year.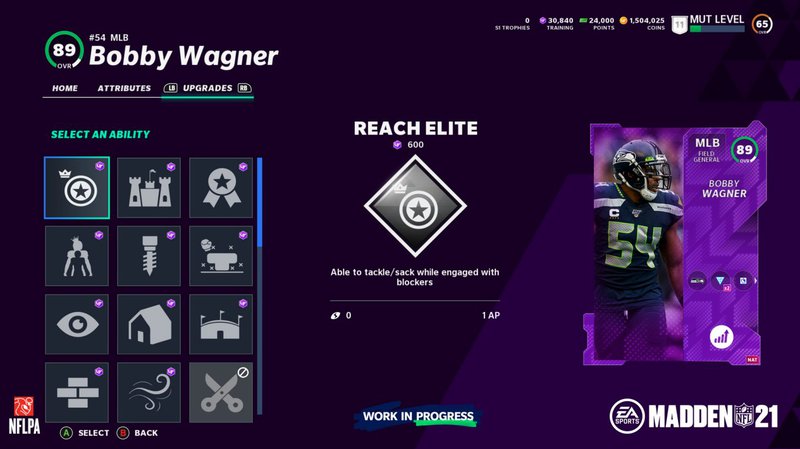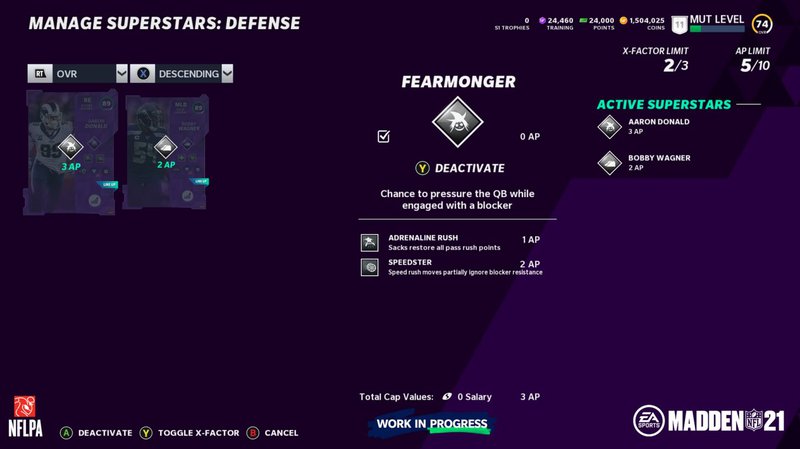 NEW ITEM LAYOUT
Another new aspect of this year's MUT is the card art that many of you may have seen already on Twitter. It is important to note that there are 2 different designs this year: 50/50 and 80/20. The 50/50 design will only appear when highlighting a specific player. Half of the card will display player art while the other half will provide important information such as position, archetype, overall rating, X-Factor/Superstar Abilities, whether the item is Power Up eligible, and if the card happens to be NAT or LTD. The 80/20 design will be the default display for all player items that are not currently being highlighted. This view will have card art in the 80% portion with name, overall rating, and team displayed in the 20% sidebar.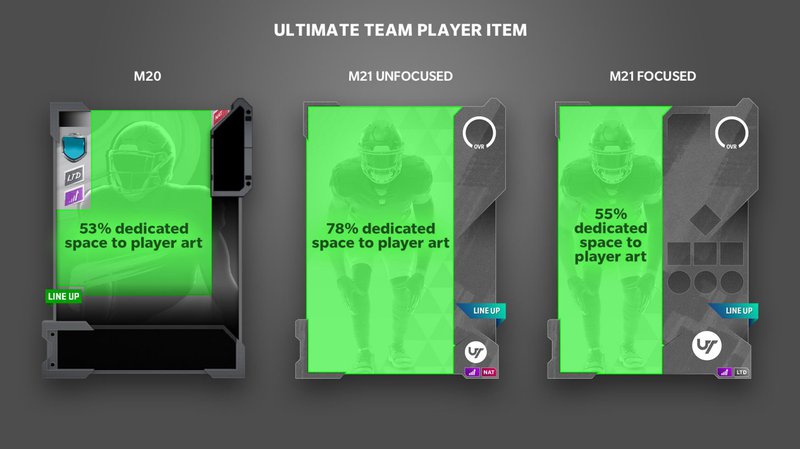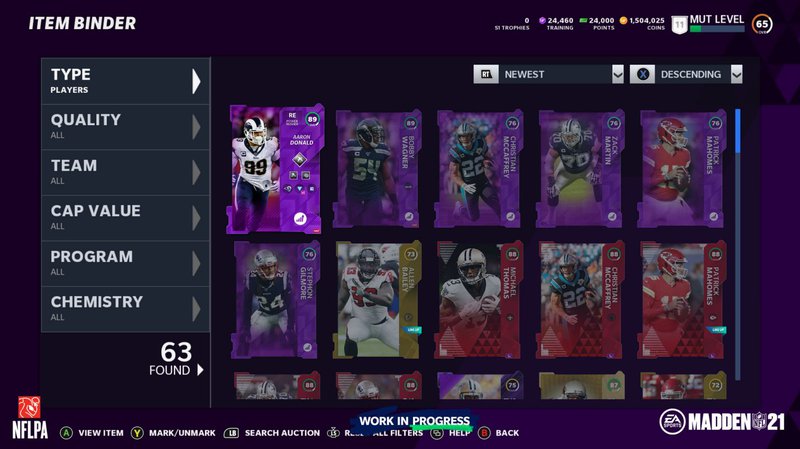 RIVALZ
Rivalz is essentially an introductory mode to Ultimate Team that consists of Arcade game settings with simple end conditions. Completing all Rivalz challenges will give you the option to select 1 of the following 85 OVR players: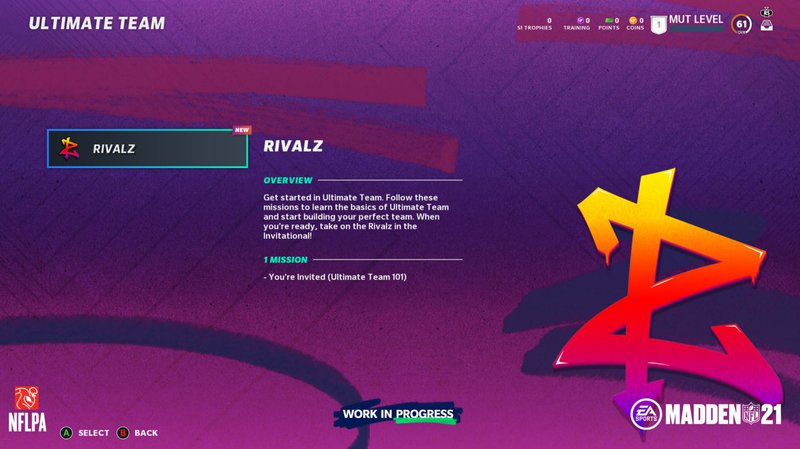 TEAM CAPTAINS
Early in your MUT journey, you will be given the option to select your team captain from 4 possible player options. You can only have one Team Captain at a time but will be able to exchange one for a different Captain at any point. There are 32 different versions of each Team Captain (1 for each NFL team), so you will be able to select the version that best fits your team. The following players are your Team Captain options for MUT 21: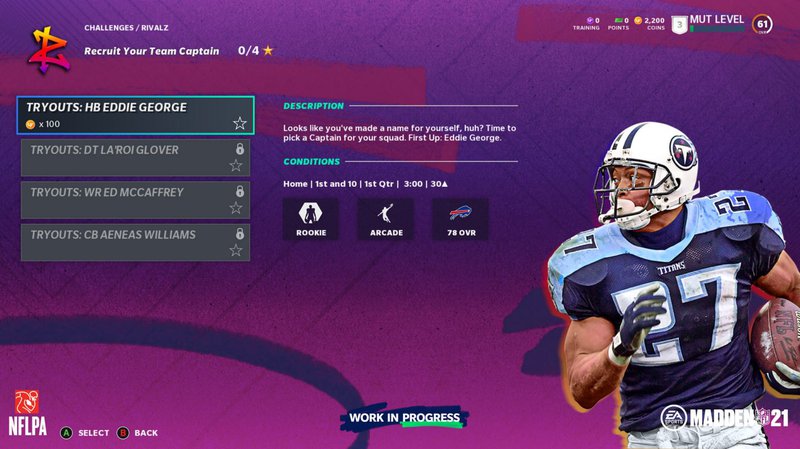 NFL EPICS
NFL Epics is a mode highlighting 4 specific players with 26 Ultimate Challenges each from memorable moments in each player's career. Completing each player's Ultimate Challenges will reward you with an 85 OVR version of that player. The following players can be earned from NFL Epics: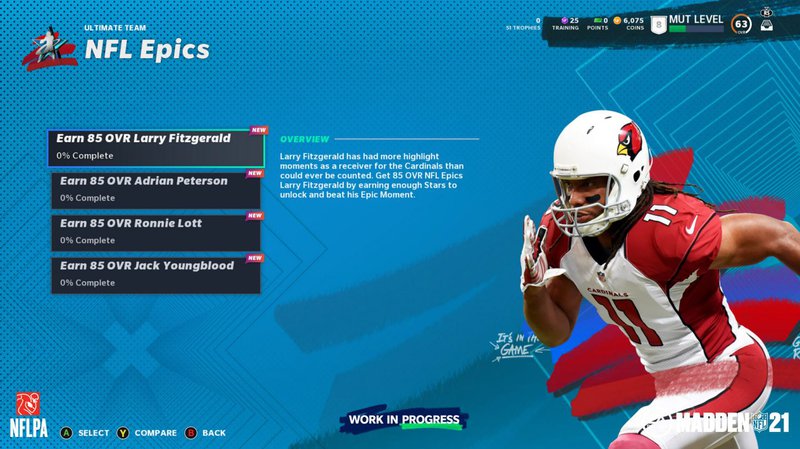 MUT MASTER
This year's MUT Master is former Saints/Panthers MLB, Sam Mills. You can earn 75 OVR Sam Mills by scoring your first TD in MUT. You can upgrade Mills to 93 OVR currently by completing objectives from his list.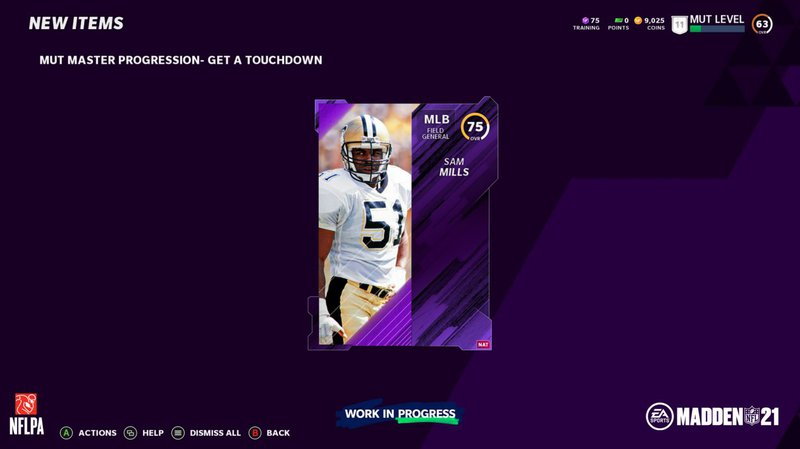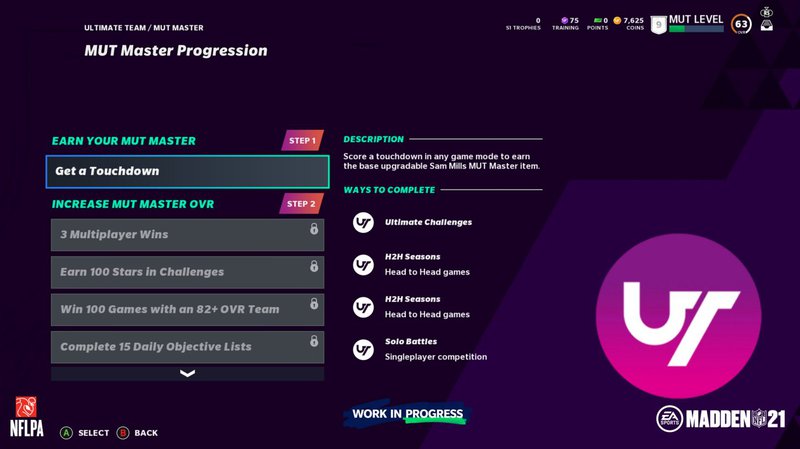 LEVEL MASTER
This year's Level Master is Andre Johnson! You will be able to upgrade Andre's OVR throughout the year by increasing your MUT level and by completing Level Challenges. Level Master Johnson will have all 32 team chemistries available to equip and you will be able to unlock alternate X-Factors with different triggers and knockout conditions.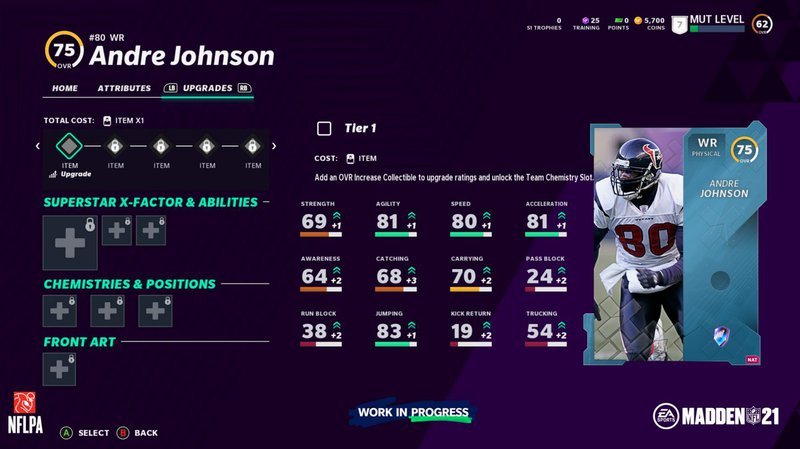 TEAM BUILDERS
If you're looking to build your MUT team around your favorite NFL squad, Team Builders is a great way to start! Once you complete the 16-game Challenge sequence, you will get to select a Fantasy Pack for the team of your choosing. Once your team is selected, you will get to pick an 84 OVR player from either the offense or defense of that team.
To view all 64 Team Builders options, click here for the Muthead Database.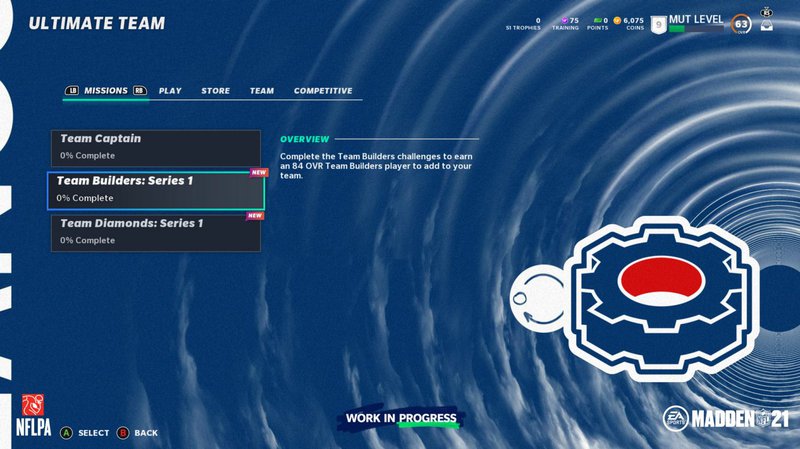 TEAM DIAMONDS
One of the most popular programs in MUT 20 was Theme Diamonds and it's back this year with a slightly different name (Team Diamonds)! The following players can be earned by completing their corresponding Team Diamond Set and Team Diamonds Master Barry Sanders can be acquired by completing all Team Diamond Sets:
Team Diamonds Master – Barry Sanders
Bears – Jim Covert
Bengals – Takeo Spikes
Bills – Kyle Williams
Broncos – Elvis Dumervil
Browns – Frank Minnifield
Buccaneers – Warrick Dunn
Colts – Bob Sanders
Cardinals – Adrian Wilson
Chargers – Eric Weddle
Chiefs – Dante Hall
Cowboys – Travis Frederick
Dolphins – Mark Clayton
Eagles – Troy Vincent
Falcons – Roddy White
49ers – Justin Smith
Giants – David Diehl
Jaguars – Keenan McCardell
Jets – Mo Lewis
Lions – Robert Porcher
Packers – Jermichael Finley
Panthers – Charles Johnson
Patriots – Asante Samuel
Raiders – Rich Gannon
Rams – Dre Bly
Ravens – Adalius Thomas
Saints – Jahri Evans
Seahawks – Mack Strong
Steelers – Heath Miller
Texans – Amobi Okoye
Titans – Drew Bennett
Vikings – Phil Loadholt
Washington Football Team – London Fletcher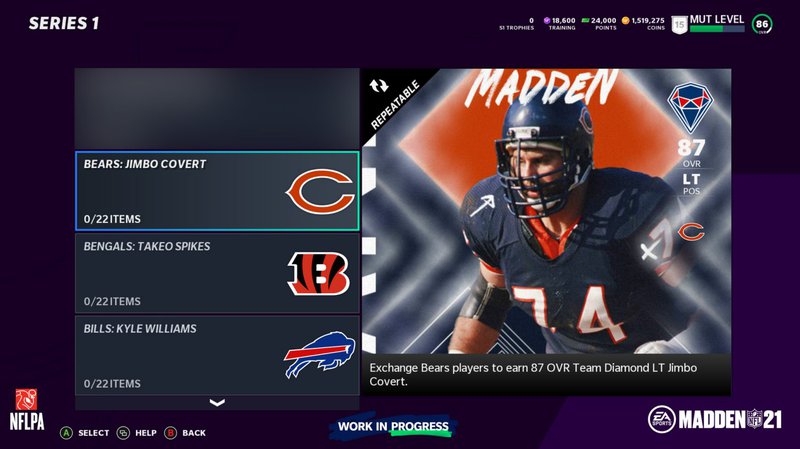 LEGENDS
Legends will be returning to Ultimate Team again this year but with a few small changes. There will be 2x Legends released each weekend and both will have limited-time (LTD) "Boss Versions". These "Boss Versions" will have ratings that match the player's fully Powered Up version. Stay tuned throughout the season to find out which Legends get released each weekend!
CONSOLE TRANSITION
While we have covered Dual Entitlement in a few different articles lately, EA gave us a little more information with today's Gridiron Notes. Instead of a "one-time push" like there was with the last next-generation console release, this year's transition will co-exist on each system. In other words, any change to your item binder, Coins, Training Points, etc. will update on both consoles. Stay tuned for more information on Console Transition with future updates.
With the global release of Madden NFL 21 just 10 days away, which new feature or player are you most excited to get your hands on?