After revealing the Rookie QB ratings for Madden 21 yesterday, today is the WRs time to shine! With one of the deeper draft classes at wide receiver in recent memory, it will be exciting to see how these guys perform on the Madden gridiron (I'm looking at you Henry Ruggs III and your 98 SPD). Be sure to check out ESPN shows like "Get Up", "First Take", "SportsCenter", and "NFL Live" all next week (July 13-17th) to see more player rating reveals and discussion by the network's top analysts and former players.
To see Jerry Jeudy, CeeDee Lamb, Henry Ruggs III, and Tee Higgins get their Madden 21 Ratings revealed to them by former NFL great WR Ochocinco, click here to watch the video.
Top M21 Rookie WR Ratings
Henry Ruggs III - 76 OVR
CeeDee Lamb - 75 OVR
Jerry Jeudy - 75 OVR
Justin Jefferson - 74 OVR
Jalen Reagor - 73 OVR
Brandon Aiyuk - 72 OVR
Laviska Shenault Jr - 72 OVR
Devin Duvernay - 71 OVR
Michael Pittman Jr - 71 OVR
Tee Higgins - 71 OVR
For the full list of Rookie WRs and their detailed ratings, click here to view the EA database. For only WRs, click "filter", then "position", checkmark "Wide Receivers", and hit "apply".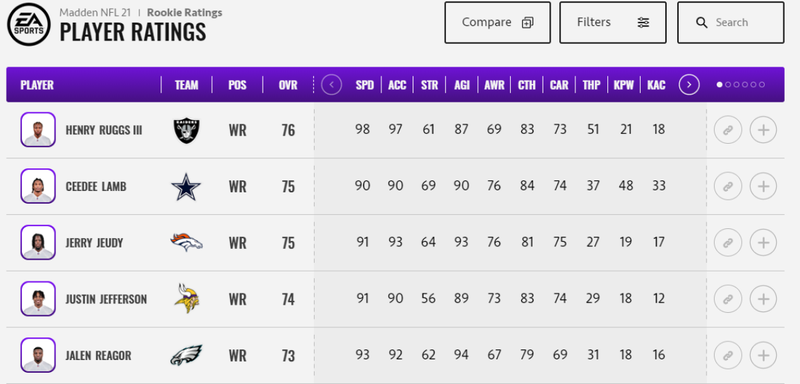 *** Another Reminder: If you plan on finishing Rookie Premiere Sets in Madden 20, the deadline is 10 AM ET on July 13th. For Rookie Premiere details, click here.
What are your thoughts on the initial ratings of the M21 Rookie Wide Receivers?