Today, EA gave us our first sneak peek at Madden 21 player ratings, starting with the Rookie QBs! Beginning next week on Monday, July 13th, additional player ratings will be revealed, starting with the 99 OVR Club. Tune in to ESPN Programs such as "Get Up", "First Take", "SportsCenter", and "NFL Live" to see OVR reveals and discussion by some of the game's top analysts and former players. This week-long event culminates with a SportsCenter special on Friday, July 17th at 7 pm ET, where any remaining player ratings will be revealed.
To see Tua Tagovailoa, Justin Herbert, Jordan Love, and Jalen Hurts get their Madden 21 Ratings revealed to them by Hall of Fame QB Steve Young, click here to view the video.
Top M21 Rookie QB Ratings
Joe Burrow - 76 OVR
Tua Tagovailoa - 73 OVR
Jordan Love - 71 OVR
Justin Herbert - 70 OVR
Jalen Hurts - 68 OVR
For the full list of Rookie QBs and their detailed ratings, click here to view the EA database.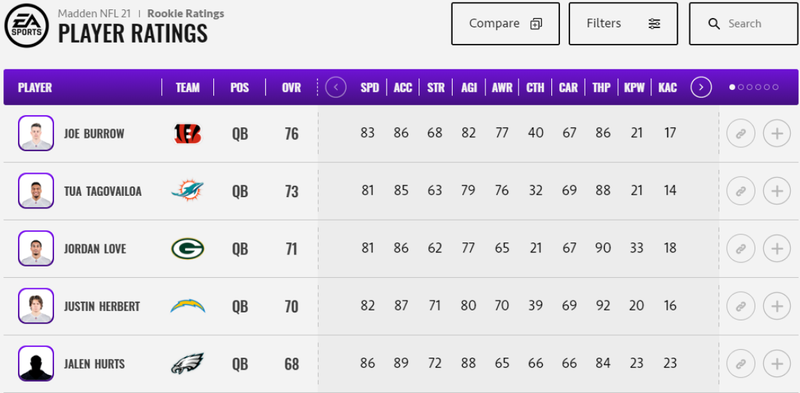 ***Reminder: If you plan on finishing Rookie Premiere Sets, the deadline is 10 AM ET on July 13th. For Rookie Premiere details, click here.
What are your thoughts on the M21 Rookie QB ratings? Who do you think will be part of the illustrious 99 OVR Club for Madden 21?