Today's latest Madden 21 reveal focuses on Face of the Franchise and Classic Franchise information. Below is an overview of key highlights from the EA Gridiron Notes.
For a look at the full Gridiron Notes for today, click here.
The next set of Gridiron Notes will focus on Playbooks in Madden 21 and is expected to release on Tuesday, July 14th.
Face of the Franchise: Rise to Fame
Last year's newest mode in Madden 20 gets some upgrades in the next installment of the game. In case you are unfamiliar with Face of the Franchise, it's essentially a "Career" or "Be a Player" mode that you may have played on other sports games but with its own, unique story in Madden 21.
Characters
Tommy Matthews: Career long rival and friend - played by Tye Sheridan.
Reggie Brown: Interviewer and friend - played by Michael Beach and Moses Jones. (Could this be an homage to FNF's own Reggie Brown aka Boogz?)
Coach Fetu Vaitai: High school legend and football coach - played by Cooper Andrews.
Coach Red O' Brien: Defensive mastermind college coach - played by Robert Patrick.
Snoop Dogg: Played by himself.
Rich Eisen: Played by himself.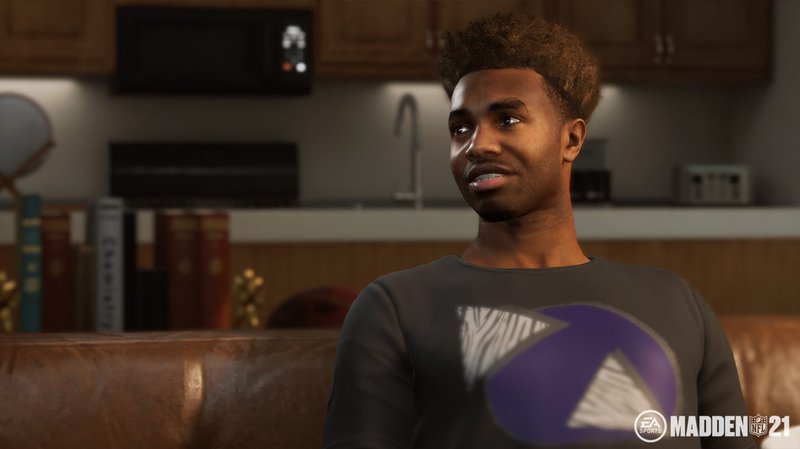 High School
Once you've created your player, it's time to begin your football journey in High School where you will pick your team's name, city, and mascot. You will begin as the backup to star QB Tommy Matthews, where you will be faced with a series of dilemmas that dictate whether you will be good friends or heated rivals. No matter which path you choose, the ultimate goal will be leading your High School to a coveted State Championship!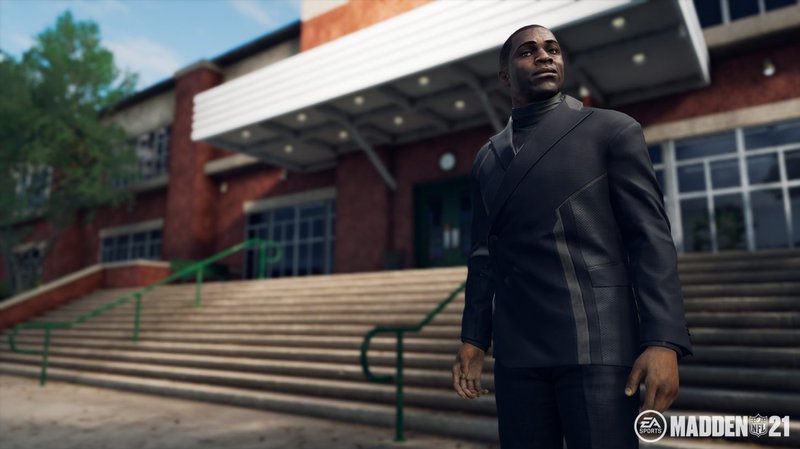 College
The next step on your path will be selecting a College at National Signing Day from the ten FBS schools that are interested in you. After selecting your school of choice, you will be expected to navigate a QB controversy, get in good graces with your new Head Coach (Red O'Brien), build up your NFL draft stock during two collegiate seasons, and work towards the ultimate goal in college football: a National Championship (or two)! Will you be asked to switch positions to Running Back or Wide Receiver? If so, do you switch or stick with QB and take your chances in the NFL Draft? The choice will be up to you!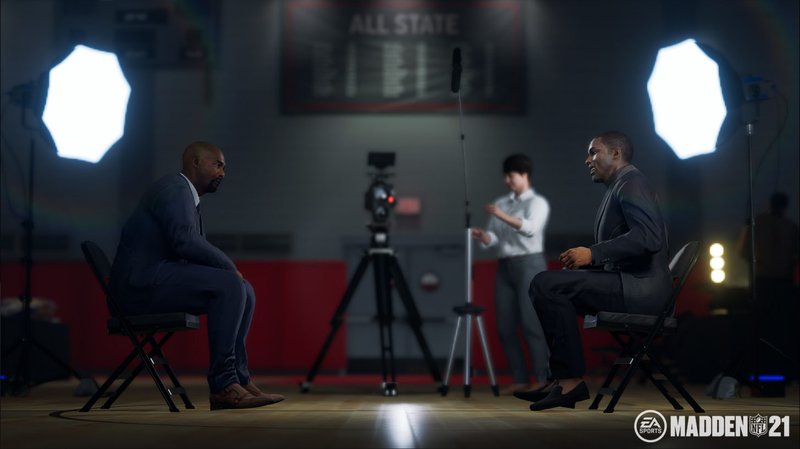 Combine & Draft
The NFL Combine is the next step on your journey. Here you will get to showcase your abilities and see where you stack up against fellow up-and-coming talent from your Draft Class. Not only will you be showcasing your talents on the field at the Combine, but at the microphone as well by answering questions at a press conference and influencing which team selects you. NFL commentator, Rich Eisen will help prepare you for the 40-yard dash. Be sure to pay attention and take notes, since we all know the first name that comes to mind when thinking about the 40-yard dash is the blazing speed of Rich Eisen.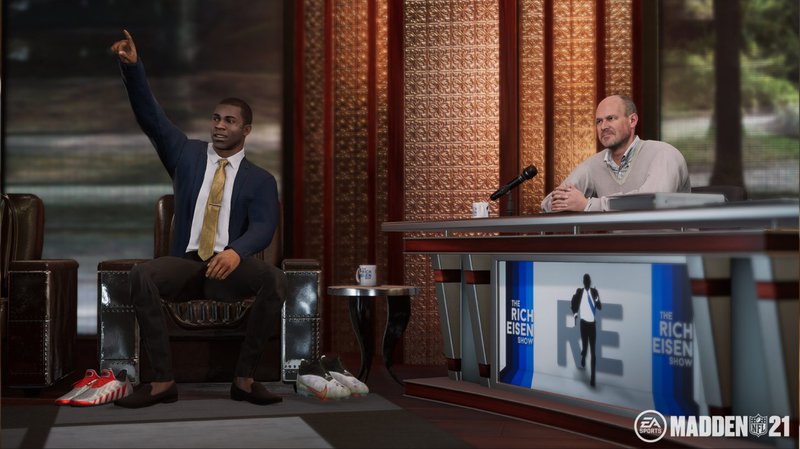 NFL Storylines
In this year's version of Face of the Franchise, there are multiple storylines you can experience during your NFL career. The following storylines can occur in different years of your NFL career, making for a truly dynamic experience:
Franchise Savior
As a top pick in your Draft Class, you will be expected to put the team on your back (Greg Jennings style). Do you have what it takes to help lead your new franchise to a Super Bowl and solidify yourself as an all-time great?
Next Man Up
In this storyline, you are drafted by a team with a solid starter already at your position. Navigate the NFL locker room to win over veteran teammates and seize the starting job when your chance to showcase your talent arrives!
Understudy
As a late-round Draft Pick after an up-and-down College career, you will find yourself low on the depth chart where you will need to make the most of your opportunities and grab a starting role with impressive performances. Some guy named Tom Brady had a similar career path, could you be next?
Bitter Rivals
A good rivalry always helps make a sporting event more interesting and this year's Face of the Franchise is no different. Engage in a public argument on social media with a defensive player from a rival team to increase the spotlight on your game, elevate the stakes, and cultivate a rivalry for years to come!
Dream Team
You find yourself on a team with a tremendous amount of talent and in turn, a tremendous amount of expectations. Will your "Dream Team" live up to the hype and complete the dream season, or fall short like many super teams of the past?
The Comeback
You find yourself coming off a season-ending injury that kept you out of action most of the previous year. Will you be able to bounce back and reassert yourself as one of the NFL's best at your position or will this mark the decline of your NFL career?
Turf War
Fresh off a less than stellar season, you find yourself locked in a contentious position battle for your starting spot the following year. Will you have what it takes to fend off the competition from your teammate and hold onto your starting job?
Into The Sunset
As you find yourself reaching the end of your illustrious NFL career, you will have one last shot to make your final year a success. With retirement looming just around the corner, do you still have what it takes to win a Super Bowl and go out as a champion like Jerome Bettis in 2006 after Super Bowl XL?
MADDEN NFL 21 CLASSIC FRANCHISE UPDATES
The new X-Factors make their way into Franchise. More details on X-Factors in Madden NFL 21 coming soon!
Franchise has an expanded Wild Card Playoff round to match the real-life NFL which now features 3 games for each conference instead of 2.
Updated all rookie contract amounts to be more authentic to the actual Draft rookie contracts for all 7 rounds
Retuned every position's available Abilities to better consider in-game effectiveness of the ability and archetype authenticity. Also made the 2nd ability unlock for most positions 85 OVR (was 80 OVR in Madden NFL 20.)
Fixed multiple cases in logic of players considered for a Dev Trait upgrade at the end of the season not checking the correct stat types.
Updates to all team back-end depth chart philosophies so they match the team's scheme.
Added position-specific Offensive Lineman archetype progression buckets for OT, OG, and C to capture variance in OVR formulas based on positional expectations. Previously, all OL were pulling from the same progression bucket.
Fixed issue where defensive playbooks and schemes for our fictional coaches would be misaligned (e.g. 3-4 playbook with a 4-3 scheme.)
What are your thoughts on today's latest Madden NFL 21 Franchise news? Let us know in the comments below.