The fourth member of the "99 Club" has been confirmed by EA as New England Patriots Cornerback, Stephon Gilmore. With 99 ratings in Man Coverage, Press, and Awareness, Gilmore is the definition of a lockdown corner in Madden 21. While leading the top-rated defense in the league during the 2019 NFL season, Gilmore recorded a league-leading 6 interceptions and returned 2 for touchdowns. He is also the first cornerback since Richard Sherman in 2015 to receive a 99 overall rating in Madden and enter the club.
To see Stephon Gilmore receive the 99 Club news and swag, watch the video here.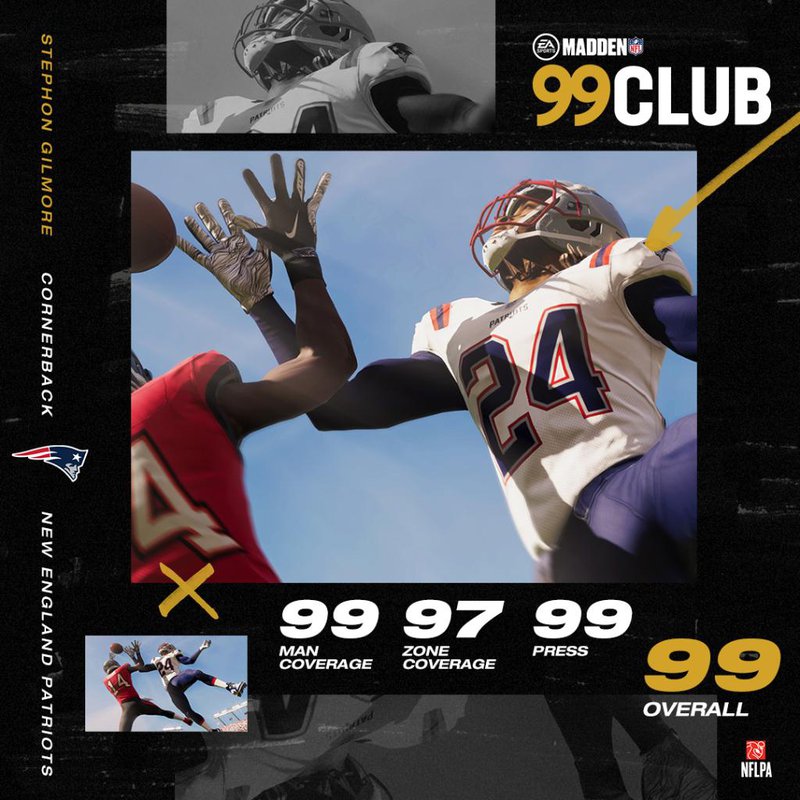 In addition to the Gilmore news, EA also revealed ratings for the top D-Line/LOLBs and rookie CBs in Madden 21, check them out below:
Madden 21 Top Rookie CBs
C.J. Henderson - 76 OVR
Jeff Okudah - 76 OVR
Jaylon Johnson - 73 OVR
Jeff Gladney - 71 OVR
A.J. Terrell - 70 OVR
Damon Arnette Jr - 70 OVR
Noah Igbinoghene - 70 OVR
Kristian Fulton - 69 OVR
Trevon Diggs - 69 OVR
Madden 21 Top D-Line/LOLBs
Aaron Donald - 99 OVR
J.J. Watt - 98 OVR
Khalil Mack - 97 OVR
Von Miller - 97 OVR
Cameron Jordan - 96 OVR
Fletcher Cox - 96 OVR
Calais Campbell - 95 OVR
Chandler Jones - 95 OVR
Myles Garrett - 93 OVR
Chris Jones - 92 OVR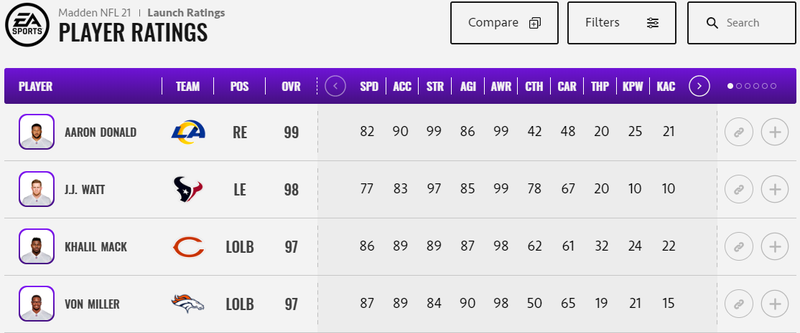 To view all of the Madden 21 player ratings that have been revealed so far, check out the EA database here.
Share your thoughts with us on the latest ratings reveal in the comments below.