EA has officially confirmed the second member of the 99 Club and it is none other than Christian McCaffrey. The Carolina Panther is coming off a Pro Bowl season that saw him rack up over 2300+ total yards from scrimmage and 19 total TDs. Like Mahomes yesterday, this is McCaffrey's second year making the 99 Club, but his first year being rated 99 on day one. "Run CMC" is the first halfback since Adrian Peterson in Madden 25 (2014) to earn 99 Club honors.
To see McCaffrey's former college teammate, Barry J. Sanders surprise him with the news, check out the video here.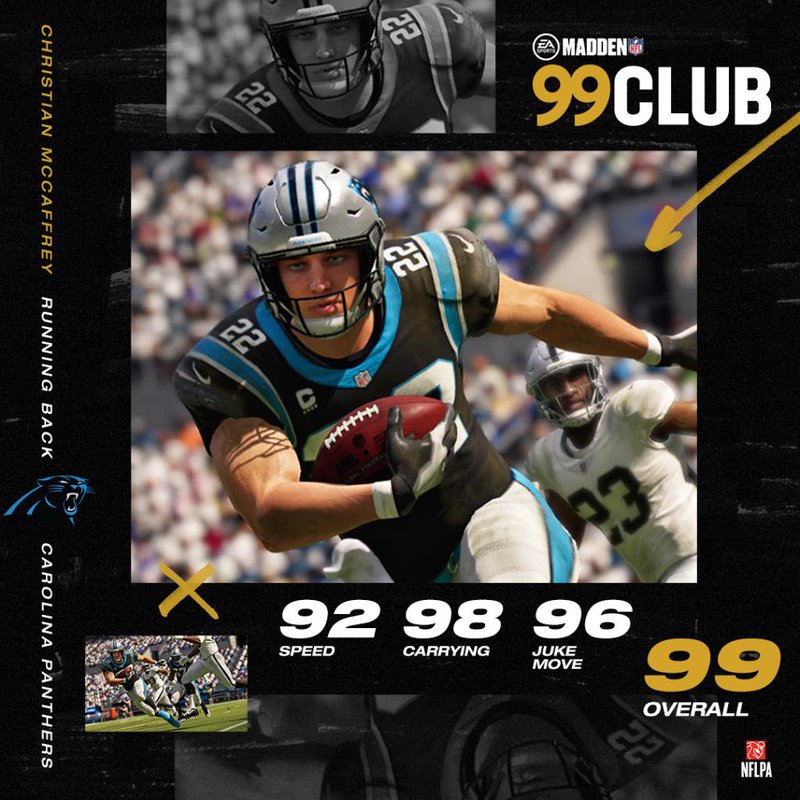 In addition to the second 99 Club member, EA has also released the top 10 QB and Rookie HB ratings for Madden 21. Check them out below:
Madden 21 Top QBs
Patrick Mahomes - 99 OVR
Russell Wilson - 97 OVR
Lamar Jackson - 94 OVR
Drew Brees - 93 OVR
Tom Brady - 90 OVR
Aaron Rodgers - 89 OVR
Matt Ryan - 87 OVR
Deshaun Watson - 86 OVR
Carson Wentz - 84 OVR
Dak Prescott - 84 OVR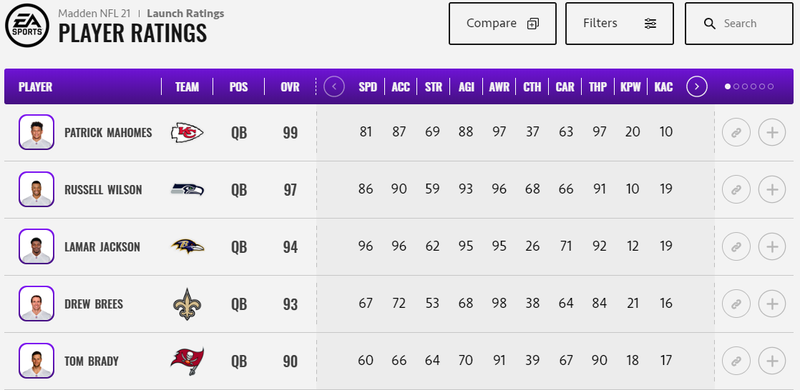 Madden 21 Top Rookie HBs
J.K. Dobbins - 75 OVR
Clyde Edwards-Helaire - 74 OVR
D'Andre Swift - 74 OVR
Cam Akers - 73 OVR
Jonathan Taylor - 73 OVR
A.J. Dillon - 72 OVR
Zack Moss - 70 OVR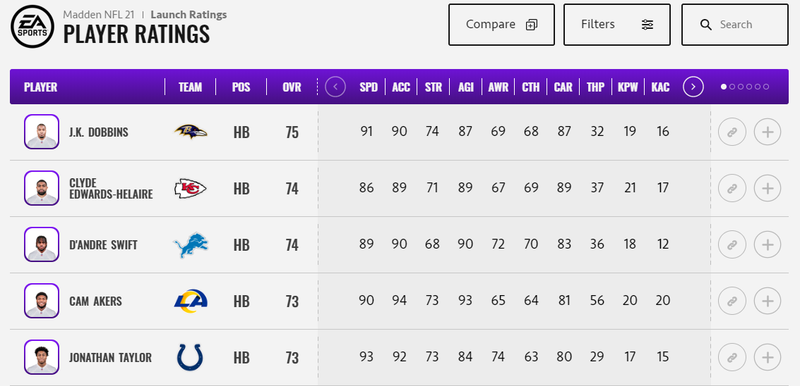 To view all of the Madden 21 player ratings that have been revealed so far, check out the EA database here.
Be sure to check back the rest of the week for more Madden 21 rating reveals and tune in to the SportsCenter special on ESPN this Friday, July 17th at 7 pm ET.
What are your thoughts on all of the latest Madden 21 OVR reveals? Share your take with us in the comments below.