If you've been following the Madden Championship Series (MCS) lately, it's been packed with action and some intense qualification and elimination rounds. The final 8 competitors for the first MCS event of the season, the Ultimate Kickoff, have been determined, and the live event is this week!
Like last year, you can earn free MUT players and packs by simply watching the event on Twitch!
How to Watch
When to Watch
The Ultimate Kickoff MCS Event will be taking place on two days this year. Be sure to watch both days to ensure that you are able to get your free Jaylen Waddle!
September 7th: 6:30-11pm EST
September 9th: 7-11pm EST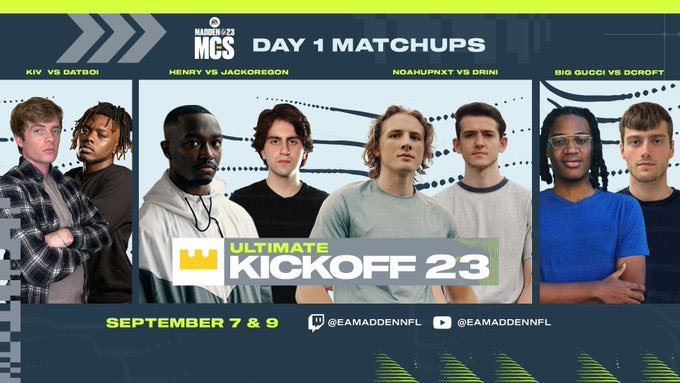 Earn FREE 88 Jaylen Waddle!
Before you start watching, be sure to be logged into Twitch
Make sure that your EA account is linked with your Twitch account! This is the most important step of the process, as it allows you to get your in-game content. Click here to link your accounts.
Each MCS Day will allow you to receive 2 tokens. You will need a total of 3 of 4 possible tokens to earn Jaylen Waddle, so be sure to watch both days.
Use your last token on a Twitch Pack, or save it for the next MCS tournament to get the next MCS-exclusive player early!
Packs
MCS Token Pack (2 can be earned per stream): Contains 1x MCS Token, 1x Player from Latest MUT Program, 4x Gold+ Players
Twitch Drop Pack: Contains 4x Gold+ Players
Sets
Twitch Drop Pack: Exchange 1x MCS Token to earn a Twitch Drop Pack
88 OVR Jaylen Waddle: Exchange 3x MCS Tokens to earn 88 OVR Jaylen Waddle
MCS Champion: Exchange all 4x MCS Stream-Exclusive Players to earn the MCS Madden Bowl Champion Player, designed by the Madden Bowl Winner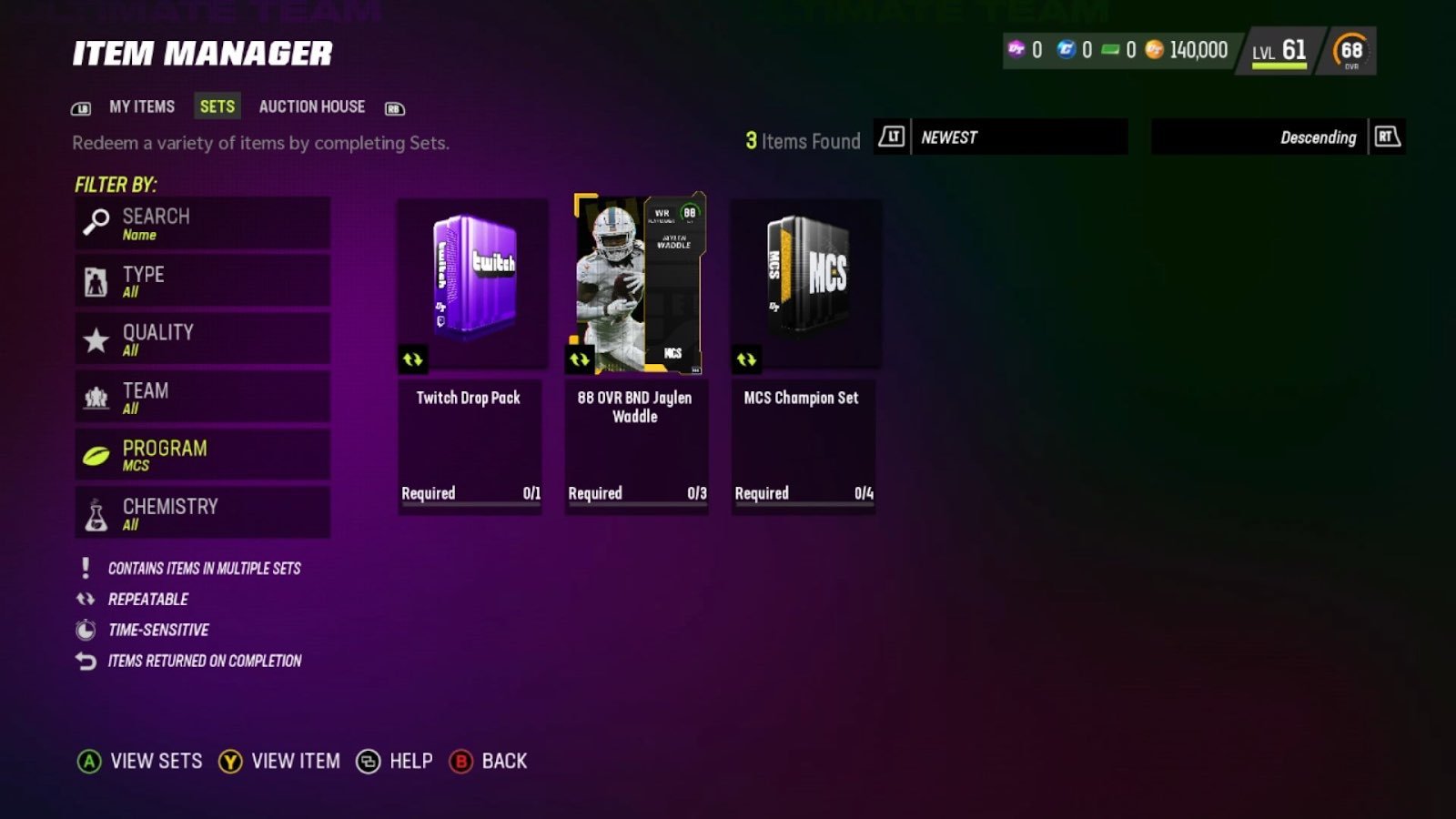 Jaylen Waddle Reward
Earn 88 Jaylen Waddle by completing the set with MCS tokens!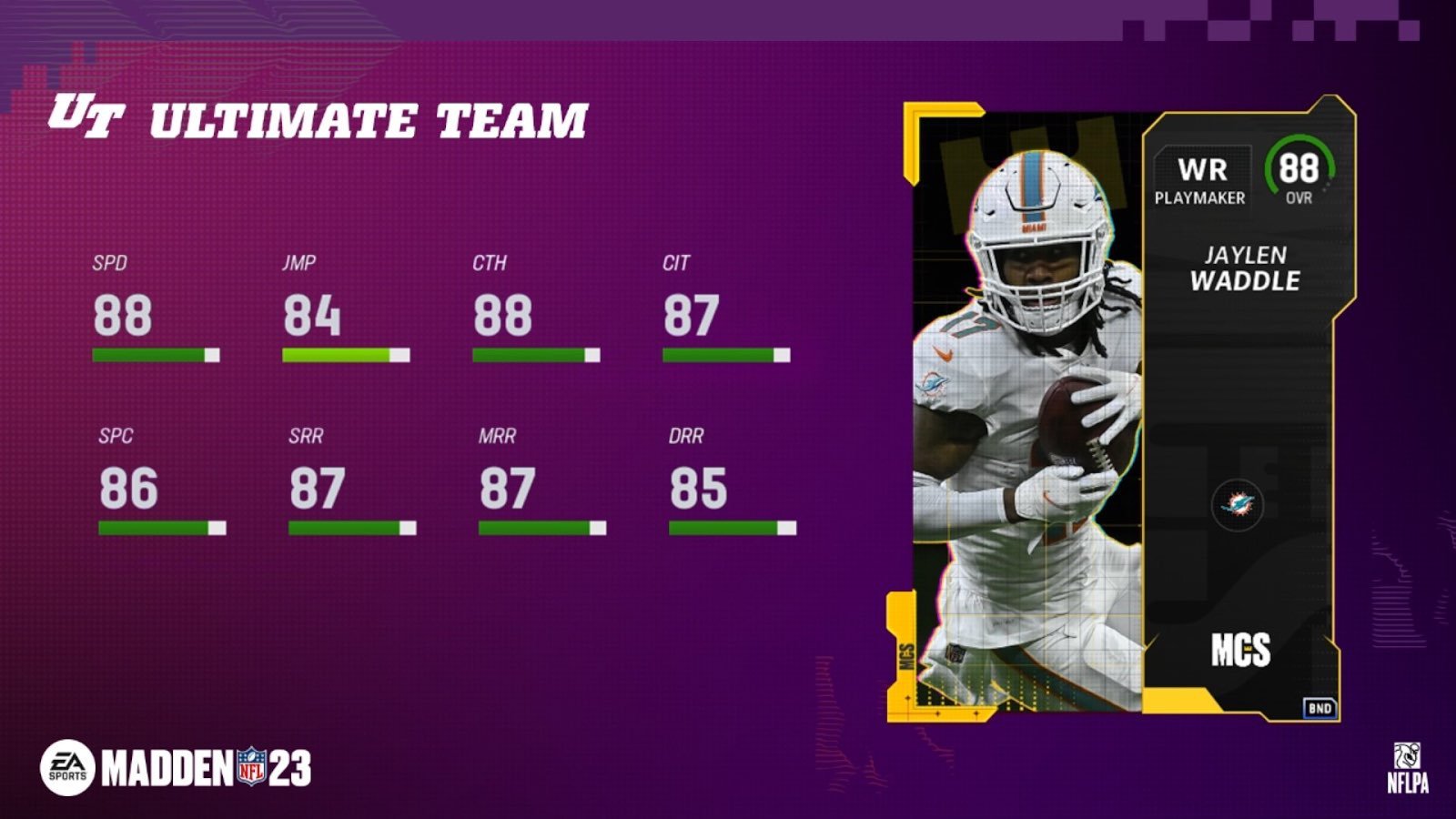 Future MCS Broadcasts
Ultimate Thanksgiving: November 9th + 16th
Ultimate Wild Card: January 6th + 11th
Madden Bowl: January 23rd - February 6th
Be sure to follow @EASPORTS_MUT and @EAMaddenNFL_MCS for any updates!
Will you be watching the Ultimate Kickoff event to earn FREE 88 Jaylen Waddle?!? Let us know in the comments below!