The MUT content continues flying out of the factory, this time with the new Gridiron Guardians program. This program you may be familiar with, as it was formerly known as the MUT Heroes program, as exemplified by the players being stylized as super heroes. But, much like a 1960's cottage, the program needed a new coat of paint and some touch ups and...well here we are! First, lets take a look at the player list:
92 OVR Champions
90 OVR Heroes
86 OVR
82 OVR
SETS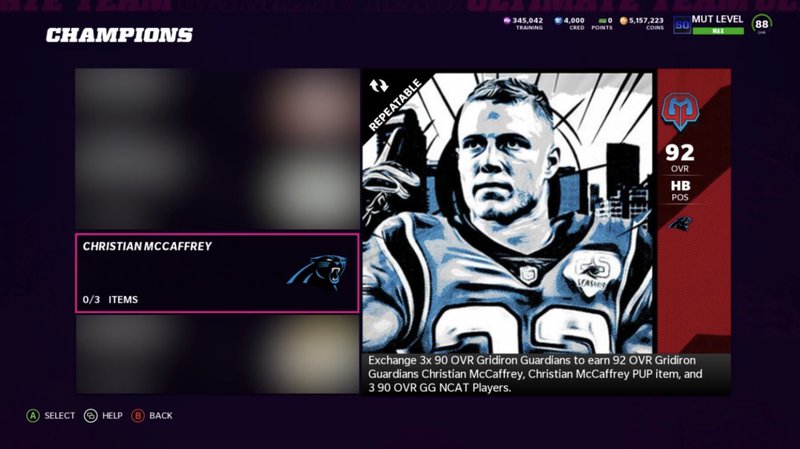 Champion set- Exchange 3x 90 OVR Gridiron Guardians to earn the respective 92 OVR GG Item, it's PUP, and 3 90 OVR GG NCAT Players
Hero Sets- Exchange 4x 86 OVR Gridiron Guardians and 5x 82 OVR Gridiron Guardians to earn the respectiver GG Hero and his PUP
86 OVR Gridiron Guardian- Exchange 5x 82 OVR GG Players
82 OVR Gridiron Guardian- Exchange 1x 80-82 OVR Player and 4x 75-79 OVR Players
CHALLENGES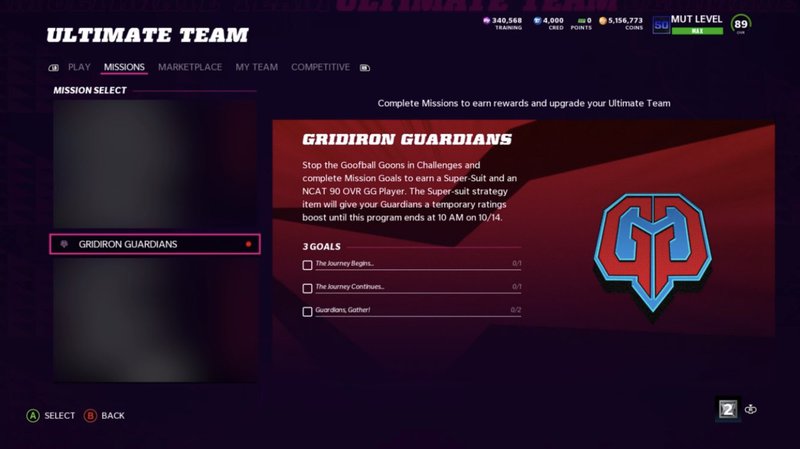 There are 3 sets of challenges for the Gridiron Guardians

Prologue- 5 challenges, 25 stars possible

Upon finishing the Prologue you receive a Super-Suit Strategy Item. This item boosts all Gridiron Guardian players ratings by +1 (each individual rating not just OVR). This item only works in CPU modes, not H2H and will go into the designated 5th Strategy Item slot

Goofballs in the Grocery/The Showdown- must complete Prologue to unlock
Rewards

50 Stars- 82 OVR GG Fantasy Pack
100 Stars- 90 OVR GG Fantasy Pack
150 Stars- 82+ GG Player
5k Coins earned at 25 and 75 stars
10k coins earned at 125 stars
MISSIONS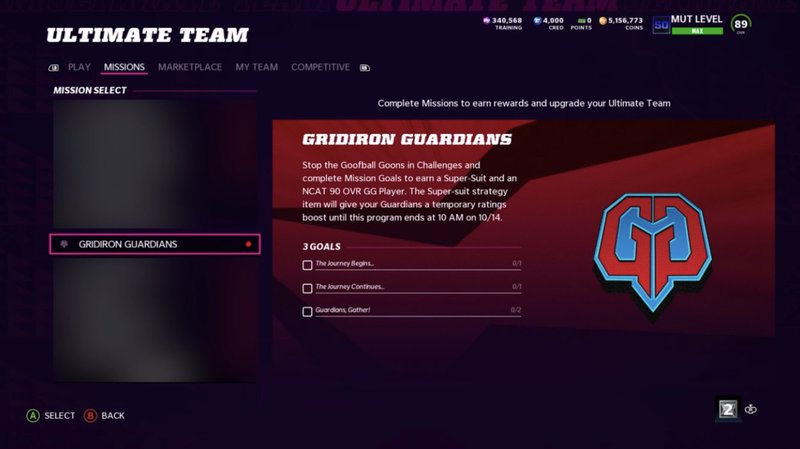 Completing the Gridiron Guardian mission will give you a choice of a 90 OVR GG Player, as well as 37k coins and 22k XP. These are available until 10/14.

Earn 75 Stars in GG Challenges
Earn 150 Stars in GG Challenges
Force 20 Fumbles
Get 100 Tackles
Complete a Gridiron Guardians Set
Complete 5 GG Sets
Win 15 games with 2+ TDs
Win 25 games by scoring 17+ points
Rush for 150 yards in a game
Get 300 Tackles
Win 10 games with at least 1 sack
Win 10 solo battle or H2H games
In H2H Games

Rush for 900 yards
Score 25 Rushing TDs
Score 250 pts
STORE
Gridiron Guardians Pack- Contains 1x 82+ OVR GG, 2x 72+ OVR players, and 3x 68+ OVR players (900 Microsoft Points or 52k Coins)
GG Fantasy Pack- Contains 2x 82+ OVR GG Players and 6x 77+ OVR players, Choice of 5, Limit 2 purchases (500 MPs)
14x GG Bundle- Contains 14x GG Packs and 2x 90 OVR GG toppers (12000 MPs, limit 3)
7x GG Bundle- Contains 7x GG Packs and 3x 82+ OVR (or 2x 86+ OVR depending on which bundle you purchase) Toppers (5850 MPs, Limit 3)
And that's an overview of this fun program. Who are you adding to the squad? Let me know in the comments!