Good Morning Madden returned today on the EAMaddenNFL Twitch Channel with some updates to frequently asked questions regarding the launch of MUT 21. Agent K touched on a variety of topics in today's episode. Below you will find a brief summary of what was covered:
To watch the rebroadcast of today's episode of GMM, Click Here.
MENU SLOWNESS
EA is aware of the menu slowness issue and working on speeding things up a bit. Some platforms may have seen a bit more speed recently. Future title updates may contain additional fixes in this area.
PRE-ORDERS
If you have not received your Madden pre-order, Agent K has recommended contacting help.ea.com by submitting a ticket with details on your issue.
LOCKED OUT
Some players have been reporting that they have been locked out of Madden Ultimate Team. A thread has been created on the EA Forums that directly relates to the Locked Out issue. For updates, continue to monitor this thread.
ROOKIE PREMIERE/LOYALTY
Loyalty Rewards have already gone out for all those who have loaded into Madden Ultimate Team. Rookie Premiere items went live earlier this morning. However, instead of receiving a pack containing your RP items like previous years, RP items in 21 can be found by going into your collection binder.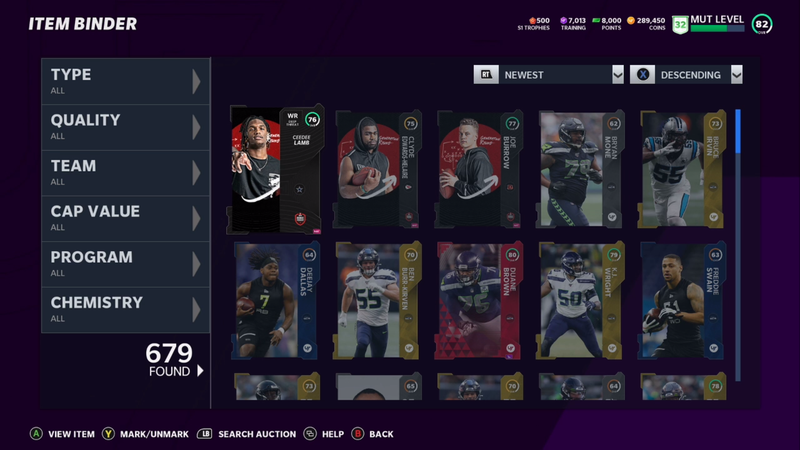 SOLO BATTLES
Solo Battles have been temporarily disabled due to a glitch that allowed some players to continuously play games after all games should have been completed last week. It is currently being worked on by the MUT team and when there is an update, EA will provide more information on social channels.
WEEKEND LEAGUE/HOUSE RULES
Weekend League and House Rules will be making their return to Ultimate Team this year. Both events are currently scheduled to debut sometime in September. Once more information is available, the MaddenNFLDirect account will share it on Twitter.
MUT SQUADS
EA is aware of the "MUT Squad Glitch" and working on a fix. This is something that will be addressed in a future title update.
ALTERNATE PLAYBOOKS
Alternate Playbooks is another area that the MUT team is currently working on adding to the game. Once more information is available, they will share with us on social channels.
MADDEN COMPANION APP FOR iOS
While the Madden Companion App for Android has been released, the Companion App for iOS should be available sometime later today. Follow EA Help on Twitter to find out exactly when it goes live.
KICK METER/CHEW CLOCK
Some users have reported the kick meter is difficult to see, while others have reported slight hitches on the meter when powering up. Issues regarding the chew clock feature have also been reported. The QA team is aware and working on a fix for both.
LEGENDS
The Legends Program is making it's return to Ultimate Team tomorrow! Check back here on Muthead for a news article after the new content goes live.
What are your initial thoughts on MUT 21? Share your feedback with us in the comments below.