Muthead is looking to make your holiday extra special this year by giving away $2,000 in Amazon Gift Cards to 10 lucky winners! Join us tonight for the last Friday Night Football of 2020 at 8 PM ET for your chance to win one of the 5x $200 Gift Cards given out in chat or check out the tweet at the bottom of this page for a chance to win one of the 5x $200 Gift Cards being given away on Twitter. In addition to watching some of Madden's top professionals battle it out for a $1,000 1st place prize and entering the Amazon Gift Card giveaways, there will also be Twitch Drops and plenty of MUT giveaways. Can Drini repeat after last week's win and take home the $1,000 bonus for going back-to-back or will another competitor knock him off and carry the bounty to the end for their own $2,000 prize? Tune in tonight to find out and get in on all of the holiday fun!
When: Tonight! Friday 12/18 at 8 PM ET
Where: twitch.tv/mutheadtv
Bracket: challonge.com/muthead_fnf_85
Drops: Yes
Giveaways
Twitter
https://twitter.com/Muthead/status/1339992480834580485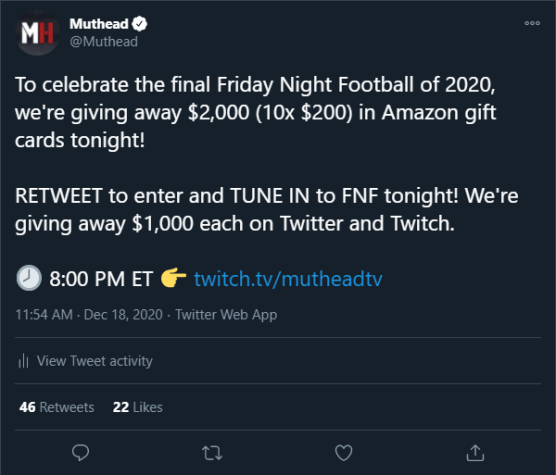 Will you be stopping by tonight to participate in the holiday celebration?