Tonight is the premiere of a brand new stream series from EA that will feature Madden pros, NFL athletes, and Derwin James taking on a variety of celebrities in Madden 21. Every Tuesday night will feature a stream split into two parts: King of the Hill and Derwin James vs. The World. Here is tonight's schedule:
8:00 PM ET: Boogz vs. Kiv
9:00 PM ET: Henry Ruggs III vs. AJ Terrell
10:00 PM ET: Derwin James vs. Lil Baby
You can catch everything live on Twitch at twitch.tv/eamaddennfl.
Even if watching live Madden on Twitch isn't your thing, EA tried to make it worth your while with a new program tied to the stream content. If you watch for at least two hours, you will receive a Crown Token. Make sure you have your Twitch account linked with your EA account so that you can get credit for tuning in. Here's the link for that.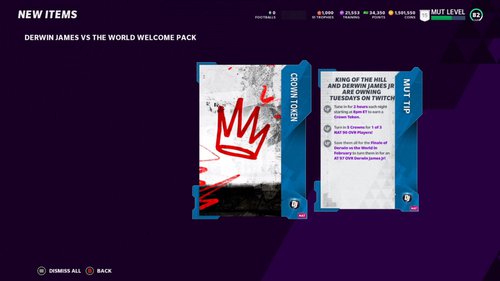 You can trade in five Crown Tokens for your choice of one of the following players:
90 OVR Keenan Allen
90 OVR Jalen Ramsey
90 OVR Nick Chubb
At the end of Derwin James vs. The World in February, if you've earned all three of these players, you can trade them in for a 97 OVR Derwin James.
We'll release the full ratings on all of these players in our database as soon as we have that information.
What do you think about the King of the Hill/Derwin James vs. The World and the free content you can earn by watching?