A new batch of Campus Heroes released in MUT today, featuring 21x new 95 OVR Campus Heroes as well as an 85 OVR Underclassman version of each player. Similar to the Veterans Program, all of today's Campus Heroes get team chemistry for any team they actually played for during their career. Some Campus Hero items have secondary positions equipped. All of today's items can be found on the Auction House, acquired from the 95 OVR All-Conference Player set, or found in the 85+ OVR Campus Hero Player pack in the Store that costs 2,500 Training Points. Check out the Campus Heroes and their full ratings below:
Campus Heroes
The following teams listed next to each player are all of the teams that player recorded stats for during their career and SHOULD be their available team chemistries.
Tommie Harris (Bears - Chargers)
Vince Young (Titans - Eagles)
Ahmad Brooks (Bengals - 49ers - Packers)
Bill Fralic (Falcons - Lions)
Billy Sims (Lions)
Corey Moore (Bills - Dolphins)
D'Brickashaw Ferguson (Jets)
DeAngelo Hall (Falcons - Raiders - Washington)
Hugh Green (Buccaneers - Dolphins)
Jack Ham (Steelers)
Kyle Brady (Jets - Jaguars - Patriots)
LaVar Arrington (Washington - Giants)
Lincoln Kennedy (Falcons - Raiders)
Lawyer Milloy (Patriots - Bills - Falcons - Seahawks)
Marcel Reece (Raiders - Seahawks)
Quentin Jammer (Chargers - Broncos)
Ronde Barber (Buccaneers)
Roy Williams SS (Cowboys - Bengals)
Roy Williams WR (Lions - Cowboys - Bears)
Shayne Graham (Bills - Panthers - Bengals - Patriots - Giants - Dolphins - Ravens - Texans - Saints - Falcons)
Tony Dorsett (Cowboys - Broncos)
To view the 85 OVR Underclassman version of each of today's players, visit our database HERE.
Set
The following new repeatable set can be found in MUT:
95 OVR All-Conference Player: Exchange 32x 85 OVR Underclassman Players to earn a Fantasy Pack where you can choose one of the 21x new 95 OVR All-Conference Players.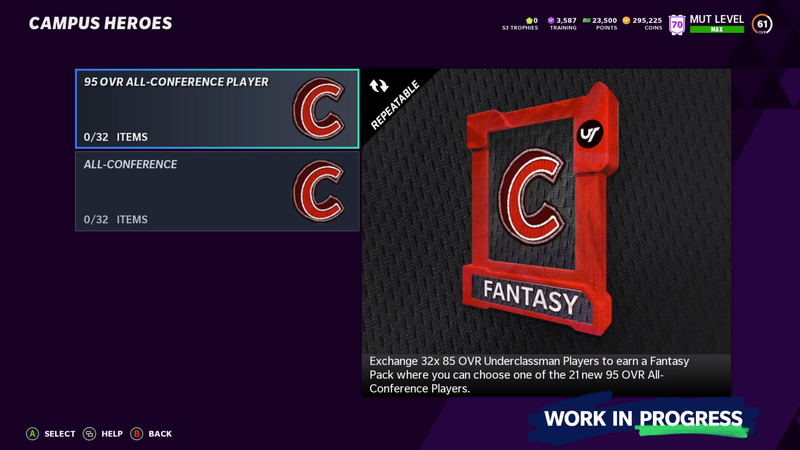 Store
The following new items can be found in the Store for Campus Heroes (cost listed first):
85+ OVR Campus Hero Player - 2,500 Training Points.
Campus Heroes Pack - 55,000 Coins or 900 Points. (Limit of 10)
7x Campus Hero Bundle - 5,850 Points. (Limit of 6)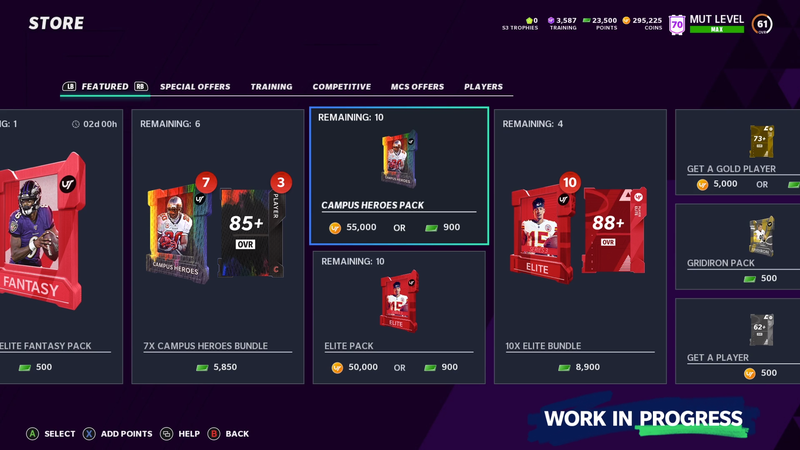 In Other News
Besides today's Campus Heroes, the Power Up for Hines Ward was also released. Check out his Power Up below:
What are your thoughts on all of today's new Campus Heroes?