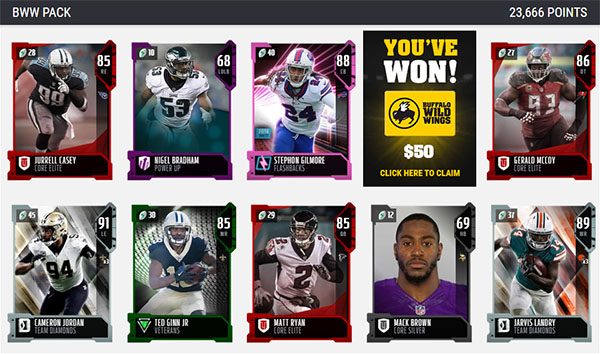 The B-Dubs Bowl caps off Muthead League Season 5 this Saturday, August 18th, and to celebrate we're giving away $5,000 worth of Buffalo Wild Wings gift cards!
To participate, just log in to your Muthead account and open BWW Packs in the Pack Simulator. You have a chance at pulling a $20, $50, or $100 gift card in every pack. There are over 200 gift cards to be found, but act fast because supplies won't last long. When all of the gift cards have been found, the BWW Pack will disappear from the Pack Simulator.
If you're lucky enough to win, or if you just want to have a delicious lunch, make sure to check out the B-Dubs Fast Break Lunch Menu. It's available at participating locations between 11AM and 2PM.
Good luck!