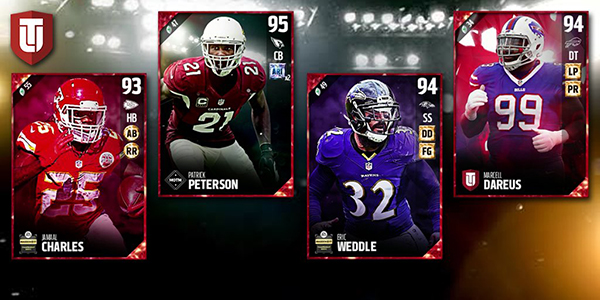 Another major Madden Ultimate Team update is live! Here is an overview:
Competitive
Two new Competitive sets were released today for Eric Weddle and Jamaal Charles. The sets require 160 and 140 Competitive badges respectively to complete. Here are the rewards:
Badge Monster
A new Badge Monster 94 OVR Marcell Dareus is live. You can unlock this new player item through the new Badge Monster: Dareus set in the Burn Badges category. It requires a total of 30 elite badges.
Man of the Month
Today, EA also released a January Man of the Month player item based on community feedback on the change to the Team Hero program. You will need 50 Team Heroes collectibles to unlock a MOTM Patrick Peterson.
Given that EA declared that MOTP Tom Brady was the FINAL Man of the Month, this gesture by EA was to done to address the issue of people having additional Team Hero collectibles. Please follow EA's official channel on Twitter and Facebook for further information on this program going forward.
What do you think of the latest player items added to Madden Ultimate Team? Will you be adding any of these players to your lineup?
UPDATE: It appears that those of you that completed a Man of the Month set after the EA Playoffs blog was released and before the January Man of the Month was announced are being reimbursed due to the inaccurate information contained in the blog. If you completed an old Man of the Month set during this time frame, contact EA Support at help.ea.com. They will review your account to see if you are eligible to be reimbursed for the Team Heroes collectibles placed in sets.