We are less than a month away from Madden 15's launch, and we have everything you need to know about what's new in MUT 15! Since Madden Ultimate Team was introduced in Madden 10, this year's update represents the largest year-to-year improvement the mode has ever seen. There is a lot to be excited about this year. Here's an overview of the major changes:
The Item Binder
The concept of separate locations for your active roster, reserves, and pending collection is gone. The item binder contains every item you own and it comes with powerful filters to locate any item you're looking for. Also, once you've found a given item, the new single item viewer options (pictured below) allow you to do anything you want with it as well.
Collecting is Easier Than Ever
Collections as you know them have been renamed to "sets" this year, and they have received quite a few improvements. You no longer have to send a card from your reserves, to your active roster, to your pending collection to finally be able to collect it. This year you can send items directly to a collection from anywhere. If an item goes in multiple sets, you'll have the option to choose which set you would like to add it to. You can also add cards to the set from the set screen itself, or search for the cheapest one on the auction house from the same location. The headaches involved with collecting items are gone.
One last major upgrade to collections involves the ability to repeat several sets multiple times. This eliminates the need for a second account in many cases as well as gives increased value to cards you pull in packs. Once you complete a set marked as repeatable, you'll be able to do it again to receive the reward as many times are you're able to complete it.
You can read more about sets this year in EA's official blog post by Game Designer, Chuck Kallenbach.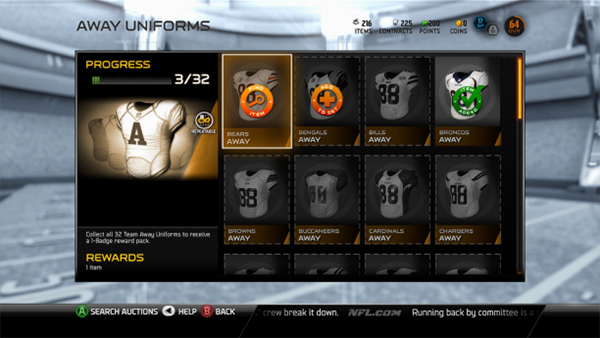 Tiers and Programs are Separate
Instead of creating new tiers when new programs are released (fantasy, ghost, BCA, etc), there will only be four tiers for the entire season: bronze, silver, gold, and elite. Tiers are represented by the color, and number of stripes on the bottom of a given card. You can find the information on the card's associated program in the top left corner such as the legends icon on Rod Woodson's elite card above.
Chemistry is Now Style
Not much has changed with chemistry, except the name. This year chemistry is now referred to as "style". You can expect the same eight style types this year: short pass, long pass, speed run, ground and pound, run stuff, pass rush, man defense, and zone defense.
New Visual Depth Chart
The visual lineup representation and the spreadsheet-style depth chart have been merged into one, easy to use, lineup manager. You'll be able to set your starters and all relevant backups on a given side of the ball from one screen. The best lineup feature now allows you to choose whether you want to created the highest OVR team or best lineup based on a given style.
Injury Cards are Gone
Starting this year, injuries have a maximum duration of one game. That means you'll never have to use an injury item to return a starting player to your lineup. In the worst case scenario, you'll lose a player for the remainder of your current game.
Contracts are More Manageable
Contracts no longer exist as individual items. You will have a total number of contracts available, and that number increases when you open packs or purchase contracts directly from the store. You can spend these contracts on adding games to individual players, or by raising your entire starting lineup to a given number of contracts. The hassle associated with ensuring your team has enough contracts to play is over.
We will have more information on what else you can expect in MUT 15 in the coming weeks. For now, you can find more information on the official blog post on EA's MUT Hub.