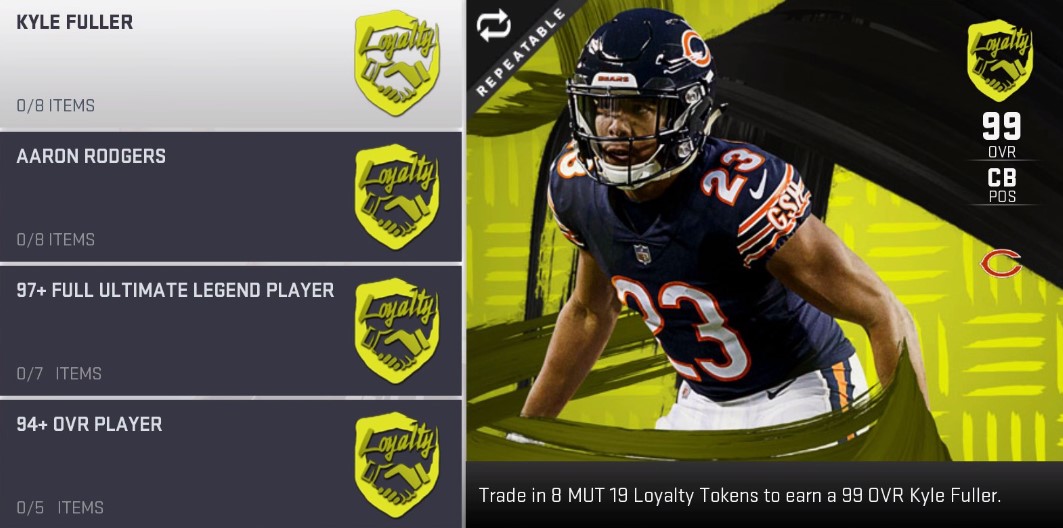 This morning EA released the MUT Loyalty Program, featuring 99 OVR versions of Kyle Fuller and Aaron Rodgers. There are new Objectives and Sets, which you can see below:
Players
Sets
Kyle Fuller - Requires 8x MUT 19 Loyalty Tokens
Aaron Rodgers - Requires 8x MUT 19 Loyalty Tokens
97+ Full Ultimate Legend Player - Requires 7x MUT 19 Loyalty Tokens
94+ OVR Player - Requires 5x MUT 19 Loyalty Programs
Ultimate Legends Fantasy Pack - Requires 3x MUT 19 Loyalty Tokens
85+ OVR Elite - Requires 1x MUT 19 Loyalty Token
Objectives
Complete any 4 of your Weekly Objective Tasks each week to earn a MUT Loyalty Token that can be used in sets.
Kraelo also hinted that on Friday, during a special early stream at 10AM ET, EA will announce how Series 7 will give you the ability to speed up the process of collecting MUT Loyalty Tokens.
What do you think about the MUT 19 Loyalty Program?