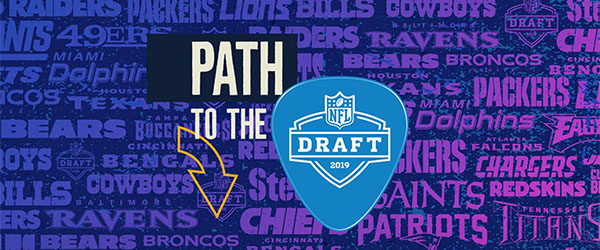 With the NFL Draft now less than a month away, EA released the Path to the Draft this morning headlined by the following new player items:
The Bruce Smith item is unlocked through the 1st Round Master set which requires each of the other three players listed above. In addition to the 99 OVR Bruce Smith, you will receive NAT versions of each required player item.
Players in the new NFL Draft program come with a new currency called Picks. You will be able to quicksell NFL Draft players to earn Picks and then spend them in the store. 4,200 Picks can be redeemed for a random 84+ NFL Draft player item and 48,000 Picks can be exchanged for a random 98 OVR NFL Draft player item (Peterson, Hopkins, or Smith). You can find the full list of NFL Draft players here.
You can get a head start on the new NFL Draft content through the 15-game 1st Round Hero Highlights solo challenge sequence. There will also be 28 days of daily solo challenges to count down to the draft which will reward you with NAT Pick collectibles. You'll want to hold onto them as they will be used on draft night to unlock 2019 NFL Draft players.
Today also kicks off Series 6 with the following new player items:
Reed is the Series 6 Master and can be unlocked through his set which requires 94 Series 6 trophies. McCoy is the reward for completing the latest update to the NFL Journey. There are 113 solo challenges total and you must be MUT level 70 to participate.
What do you think of the Path to the Draft content and the updates for Series 6?