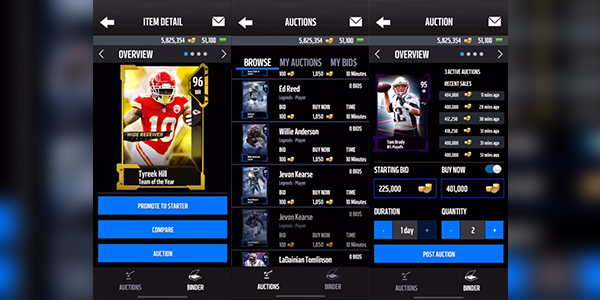 The Madden Companion App rolled out a huge update this morning that will totally change the way you can interact with Madden Ultimate Team from your phone. This update includes a ton of new functionality, including the highly requested ability to buy and sell items on the Auction House straight from the app. Here are some of the highlights:
Buy and sell items on the Auction House for your console team from within the Madden Companion App.
View your binder within the app and make lineup changes by promoting players to starter.
View and compare player ratings.
When posting players to the Auction House, view the most recent sales to get an idea of the general price the item is selling for.
Post multiple items to the Auction House at once.
Skip incremental bids by bidding any amount you'd like on an item.
The Positives
With this update, the Madden Companion App will make buying and selling items easier and more accessible. You will be able to remotely purchase players and insert them into your lineup even when you don't have access to a console.
The flexibility and freedom that comes with being able to access the Auction House on the go, even if you're stuck at school or work, should make new players and programs more accessible to everyone.
The ability to view your binder remotely is a big bonus as well. You can now easily keep up with any extra items that you have just sitting in your binder by quickly posting multiple items at once. Do you have a bunch of low-OVR players that seem like too much of a hassle to sell? This update makes getting rid of duplicate players a cinch.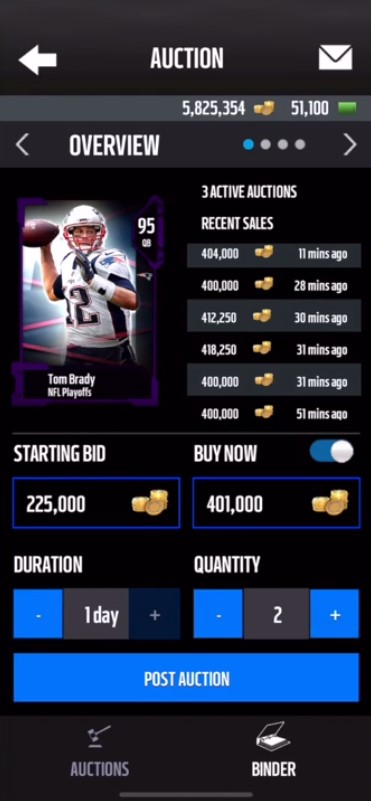 Potential Negatives
The ability to buy and sell players from a mobile app opens up the possibility of market manipulation. It is a lot easier to reverse an Android App than a console game, and the motivation is there for coin-sellers to try and figure out how to create programs that automatically buy and sell items on the Auction House without any human needing to be present.
When that happens, it will become impossible for honest player to find snipes because every great deal will be automatically bought the instant it is posted. This could eliminate the ability for No Money Spent players to use the Auction House as their primary way of making coins.
This would work doubly in favor of coin-sellers. Prices would become inflated, creating a need for people to have more coins, and the only free alternative way of earning coins would be severely diminished.
EA would be forced to change the way the Auction House works. They could introduce an Auction House similar to what is found on Madden Overdrive, where buying and selling items isn't exactly peer-to-peer.
In the Overdrive market, EA uses an algorithm to buy and sell every item in the Auction House. There are no peer-to-peer sales happening. When you post an item for sale, EA either decides to buy it or not. This does eliminate the ability of coin-sellers to manipulate the market, but it also makes it so that market prices are no longer controlled by the players. Only EA posts items. Only EA buys items.
Final Thoughts
The Madden Companion App update will introduce a lot of flexibility into the way that people can enjoy MUT. You will finally have the ability to work the Auction House and manage your team even when you don't have access to your console.
As long as EA is able to keep the app secure and prevent exploits (like the automatic flipping of items by a computer program), then this update is a huge win for fans of MUT. If not, the market could be in for a huge shake-up that would either force EA to remove the Auction House ability from the app or just completely rethink the way the market works in the first place.
If you don't already have the Madden Companion App, now is the perfect time to download it and try it out. Let us know your thoughts on this update and how it might affect your MUT experience in the comments below.