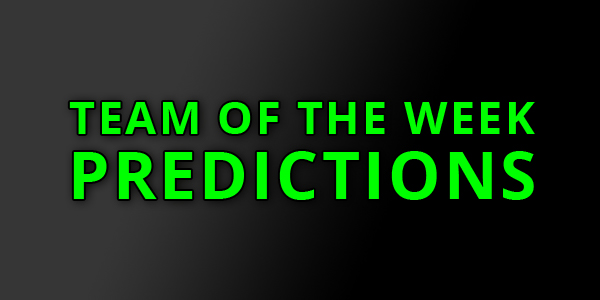 Note: TOTW 16 and 17 will not release until the team at EA returns from holiday break. You can still make guesses below.
With the end of the regular season just one week away, who do you think is still giving it their all? Let us know your predictions for this week's Team of the Week Heroes in the comment section below.
Based on their performances this week, here are a few of our best guesses on who might receive a Team of the Week item (in no particular order):
Offense
Nick Foles (471 yards, 4 TDs, 120.4 rating)
C.J. Anderson (167 yards, 8.4 YPC, 1 TD)
Chris Carson (116 yards, 2 TDs)
Robby Anderson (9 catches, 140 yards, 1 TD)
Kyle Rudolph (9 catches, 122 yards, 2 TDs)
Nelson Agholor (116 yards, 1 TD)
Calvin Ridley (90 yards, 1 TD)
Defense
Barkevious Mingo (3 tackles, 2 FF)
Patrick Onwuasor (9 tackles, 2 sacks, 1 FF)
Darius Philon (5 tackles, 1.5 sacks, 1 FF)
Cassius Marsh (3 tackles, 2 sacks)
Chris Long (2 tackles, 2 sacks, 1 FF)
Blake Martinez (7 tackles, 1 sack)
Lorenzo Alexander (15 tackles, 1 INT)
As always, keep in mind that these are our personal predictions and that none of these players are guaranteed to earn a Team of the Week item. Players from tonight's game between Denver and Oakland are eligible, so make sure to include them in your guesses below.
Giveaway
We're giving away a Team of the Week 16 Hero player item (NAT) to one lucky Muthead member. To enter, leave a comment on this article with your predictions for both offense and defense Hero for TOTW 16. One member who gets both correct will be selected at random as the winner. If no one gets both right, we will draw a random winner from all comments. Editing your comment or leaving multiple comments disqualifies you from winning. Entry ends at 8 PM ET tonight (12/24/2018), or as soon as EA announces the new players.