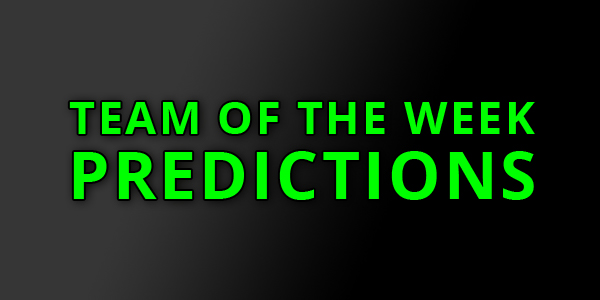 The playoff race is heating up and we want to know who you think deserves a Week 13 TOTW upgrade. You can see our predictions below:
Offense
Lamar Miller (103 yards rushing)
Chase Edmonds (53 yards, 10.6 YPC, 2 TDs)
Tarik Cohen (156 yards receiving)
Zay Jones (67 yards, 2 TDs)
Dante Pettis (129 yards, 2 TDs)
Jared Cook (100 yards, 1 TD)
Jaron Brown (67 yards, 2 TDs)
Defense
Andrew Adams (1 tackle, 3 INTs)
Alec Ogletree (10 tackles, 2 INTs, 1 TD)
Xavien Howard (4 tackles, 2 INTs)
Denico Autry (7 tackles, 3 sacks, 2 FFs)
David Onyemata (7 tackles, 3 sacks, 1 FF)
Olivier Vernon (5 tackles, 2 sacks, 1 FF)
Zach Cunningham (2 tackles, 1 INT, 1 TD)
As always, keep in mind that these are our personal predictions and that none of these players are guaranteed to earn a Team of the Week item. Players from tonight's game between the Eagles and Redskins are eligible, so make sure to include them in your guesses below.
Giveaway
We're giving away a Team of the Week 13 Hero player item (NAT) to one lucky Muthead member. To enter, leave a comment on this article with your predictions for both offense and defense Hero for TOTW 13. One member who gets both correct will be selected at random as the winner. If no one gets both right, we will draw a random winner from all comments. Editing your comment or leaving multiple comments disqualifies you from winning. Entry ends at 8 PM ET tonight (12/3/2018), or as soon as EA announces the new players.