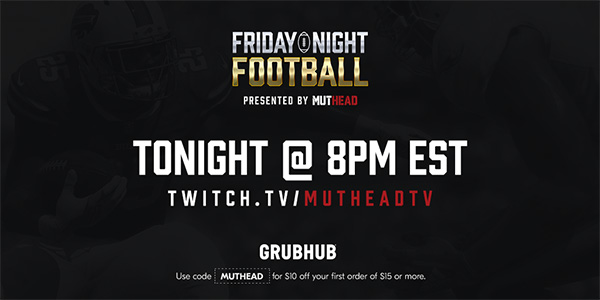 We are excited to announce Friday Night Football, a new weekly Madden tournament series. Each week we will invite 32 players to compete in a single-elimination tournament. The winner of each week walks away with $1,000. You can expect to see a mix of the best tournament players in the world combined with up-and-coming competitive Madden players looking to prove themselves. You can find this week's bracket featuring Problem, Stiff, Hollywood, Gos, and more here.
You can catch the action every Friday on twitch.tv/mutheadtv starting at 8 PM ET. Boogz will be hosting tonight and the tournament will run until there is only one player standing. Twitch drops will be enabled, so be sure to stop by to claim your free pack in Madden Ultimate Team.
This week's edition of Friday Night Football is sponsored by Grubhub. Don't miss any of the action this week. Use promo code MUTHEAD for $10 off your first order of $15 or more and get dinner delivered right to your door.