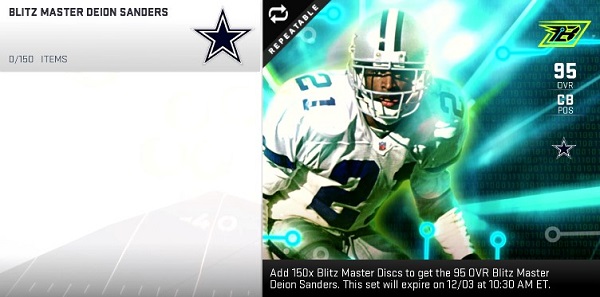 EA just launched a limited time Blitz Event featuring new players, solos, and sets. You can see all of the Blitz Players and their full ratings below:
Players
Solos
There are 14 limited time Blitz Solo Sequences (51 total solos). A new solo sequence will unlock every 8 hours and completing each sequence will earn you coins and Blitz Tokens.
In the Cyber Blitz sequence, there are hidden bonus conditions that you can meet to earn extra Blitz Tokens. Do not complete the challenges until you know the hidden conditions, because they must be met on the first time in order to receive the bonus.
Sets
4-Hour Limited Offers
There are 23 of these limited time sets. A new set will unlock every 4 hours and the previous set will expire. In these sets you can exchange your Blitz Tokens for packs from various programs bundled with Blitz Master Discs. No new sets will unlock in the 4AM ET time slots.
12-Hour Limited Offers
Every 12 hours a new set will unlock for one of the new Blitz Players. These sets require a number of Blitz Tokens to complete and will unlock the player and a number of Blitz Master Discs.
Blitz Master
If you collect 150 Blitz Master Discs you can exchange them for the Blitz Master Deion Sanders. This set will expire on December 3rd at 10:30AM ET.
Store
In the store there are limited time Blitz Bundles and Packs, including a Blitz Home and Away Uniform Bundle for 1000 points. You can also buy either the Home or Away Uniform for 600 points per item.
Each Blitz Pack contains 3 Blitz Tokens, 2x 76+ OVR Gold or better Players, 1x 72+ OVR Gold or better player, and 1x 62 OBR Silver or better player.
What do you think about these new Blitz players?