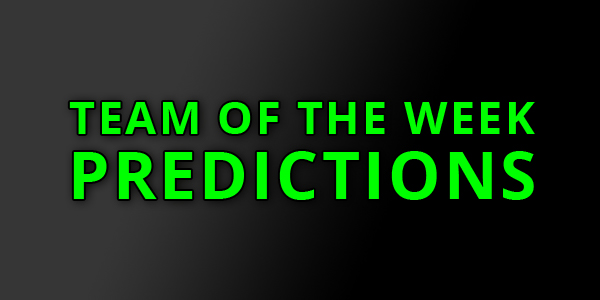 Week 9 in the NFL was full of great performances by star players. Michael Thomas had over 200 yards receiving and a 72 yard TD grab, but it's tough to see him getting a TOTW item because he just got a 91 OVR Night Guardian. With star players continuing to have great games, it makes the TOTW Predictions that much tougher.
You can see our predictions for this week's TOTW upgrades below:
Offense
James Conner (107 rushing, 56 receiving, 1 REC TD)
George Kittle (108 yards, 1 TD)
Josh Gordon (130 yards, 1 TD)
Nick Chubb (85 yards, 1 TD)
Maurice Harris (124 yards)
Raheem Mostert (86 yards, 1 TD)
Nick Mullens (262 yards, 3 TDs, 151.9 passer rating)
Defense
Leonard Floyd (3 tackles, 1 INT, 1 TD)
Mario Addison (5 tackles, 3 sacks, 1 FF)
Danielle Hunter (9 tackles, 3.5 sacks, 1 TD)
Eddie Jackson (5 tackles, 1 TD)
Jahleel Addae (10 tackles, 1 sack)
Roquan Smith (13 tackles, 1 FF)
Jerome Baker (5 tackles, 1 INT, 1 TD)
As always, bear in mind that these are our personal predictions and that none of these players are guaranteed to earn a Team of the Week item. Players from tonight's game between the Titans and Cowboys are eligible, so make sure to include them in your guesses below.
Special thanks to @codexavellum for helping with this week's predictions.
Giveaway
We're giving away a Team of the Week 9 Hero player item (NAT) to one lucky Muthead member. To enter, leave a comment on this article with your predictions for both offense and defense Hero for TOTW 9. One member who gets both correct will be selected at random as the winner. If no one gets both right, we will draw a random winner from all comments. Editing your comment or leaving multiple comments disqualifies you from winning. Entry ends at 8 PM ET tonight (11/5/2018), or as soon as EA announces the new players.
Winner: brad131405