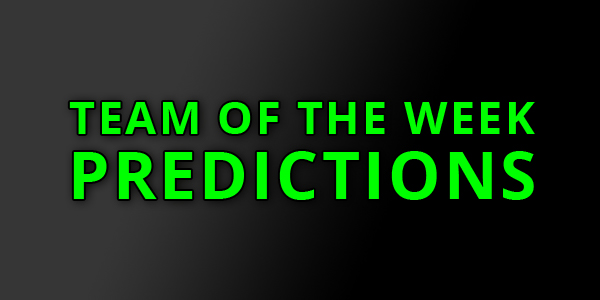 Team of the Week 5 comes out tomorrow and we'd love to hear who you think will earn a TOTW Hero.
Based on performance and current MUT items, here are our predictions for Week 5 TOTW:
Offense
Adam Theilen (7 catches, 116 yards, 1 TD)

Graham Gano (4 FG made, including game-winning 63 yarder)

Eric Ebron (9 catches, 105 yards, 2 TDs)

Robby Anderson (3 catches, 123 yards, 2 TDs)

James Conner (110 yards rushing, 75 yards receiving, 2 TDs)

Isaiah Crowell (219 yards, 1 TD)

Christian Kirk (3 catches, 85 yards, 1 TD)
Defense
T.J. Watt (8 tackles, 3 sacks, 1 FF)

Budda Baker (16 tackles, 1 sack)

Frank Clark (2 tackles, 1 FF, 1 INT)

Josh Bynes (11 tackles, 1 sack, 1 TD)

Mike Adams (6 tackles, 2 INT)

Michael Johnson (3 tackles, 1 INT, 1 TD)

Sam Hubbard (3 tackles, 1 TD)
As always, bear in mind that these are our personal predictions and that none of these players are guaranteed to earn a Team of the Week item. Players from tonight's game between the Redskins and the Saints are eligible, so feel free to include them in your own guesses below.
Special thanks to @codexavellum for helping with the predictions!
Giveaway
We're giving away a Team of the Week 5 Hero player item (NAT) to one lucky Muthead member. To enter, leave a comment on this article with your predictions for both offense and defense Hero for TOTW 5. One member who gets both correct will be selected at random as the winner. If no one gets both right, we will draw a random winner from all comments. Editing your comment or leaving multiple comments disqualifies you from winning. Entry ends at 8 PM ET tonight (10/8/2018), or as soon as EA announces the new players.