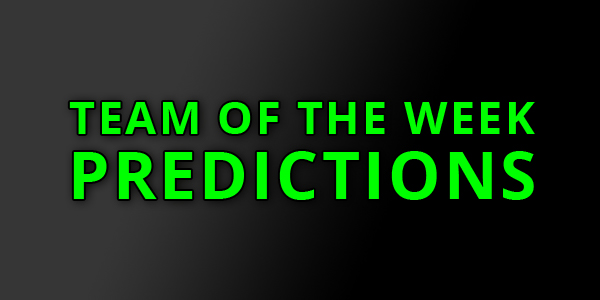 Week 3 has all but wrapped up and that means it's time to try and predict this week's TOTW players. There were a lot of fantastic performances from players across the board, so choosing just 14 of them was really difficult.
Based on performance and current MUT items, here are our predictions for Week 3 TOTW:
Offense
Christian McCaffrey (184 yards, 6.6 YPC)
Adrian Peterson (120 yards, 2 TDs, 6.3 YPC)
Robert Woods (10 catches, 104 yards, 2 TDs)
Ryan Tannehill (289 yards, 3 TDs, 155.3 passer rating)
Calvin Ridley (146 yards, 3 TDs)
Kerryon Johnson (101 yards, 6.3 YPC)
Dallas Goedert (73 yards, 1 TD)
Defense
Myles Garrett (3 tackles, 2 sacks)
Wesley Woodyard (12 tackles, 1 sack)
Kiko Alonso (15 tackles)
Joe Schobert (7 tackles, 1 INT)
Xavien Howard (1 tackles, 2 INT)
Donte Jackson (7 tackles, 2 INT)
Eli Harold (3 tackles, 2 sacks)
As always, bear in mind that these are our personal predictions and that none of these players are guaranteed to earn a Team of the Week item. Players from tonight's Monday Night Football game are eligible for TOTW, too. If you think players from Tampa Bay (Fitzmagic, anyone?) or Pittsburgh will have a fantastic game tonight, include them in your own predictions below.
Special thanks to @codexavellum for helping with the predictions!
Giveaway
We're giving away a Team of the Week 3 Boss player item (NAT) to one lucky Muthead member. To enter, leave a comment on this article with your predictions for both offense and defense Boss for TOTW 3. One member who gets both correct will be selected at random as the winner. If no one gets both right, we will draw a random winner from all comments. Editing your comment or leaving multiple comments disqualifies you from winning. Entry ends at 2 AM ET tomorrow (9/25/2018).