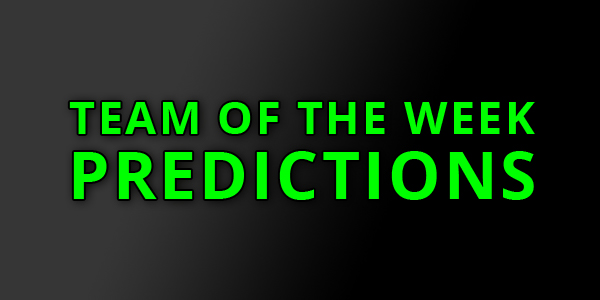 It's a brand new season, and that means weekly Team of the Week content featuring players who had outstanding performances. Just like last year, we're going to do our best to make TOTW predictions and give you the opportunity to win a TOTW Boss.
Based on performance and current MUT items, here are our predictions for Week 1 TOTW:
Offense
Ryan Fitzpatrick (417 yards, 4 TDs)
James Conner (135 yards rushing, 2 TDs)
Michael Thomas (180 yards, 1 TD)
DeSean Jackson (146 yards, 2 TDs)
Kenny Stills (106 yards, 2 TDs)
Will Dissly (105 yards, 1 TD)
Randall Cobb (142 yards, 1 TD)
Defense
Khalil Mack (1 TD, 1 INT, 1 forced fumble, 1 fumble recovery)
Denzel Ward (6 tackles, 2 INT)
T.J. Watt (11 tackles, 4 sacks, 1 blocked FG)
Clayton Fejedelem (10 tackles, 1 forced fumble, 1 TD)
Margus Hunt (3 tackles, 2 sacks)
D.J. Reader (3 tackles, 2 sacks)
Quinton Dunbar (5 tackles, 1 INT)
As always, bear in mind that these are our personal predictions and that none of these players are guaranteed to earn a Team of the Week item. Players from tonight's Monday Night Football games are eligible for TOTW, too. If you think any Jets, Lions, Rams, or Raiders will have a spectacular performance tonight then make sure to include them in your guesses below.
Special thanks to @codexavellum for helping with the predictions!
Giveaway
We're giving away a Team of the Week 1 Boss player item (NAT) to one lucky Muthead member. To enter, leave a comment on this article with your predictions for both offense and defense Boss for TOTW 1. One member who gets both correct will be selected at random as the winner. If no one gets both right, we will draw a random winner from all comments. Editing your comment or leaving multiple comments disqualifies you from winning. Entry ends at 2 AM ET tomorrow (9/11/2018).