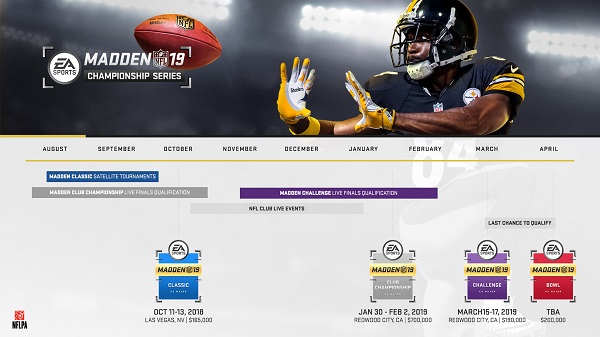 Today EA released information on this year's Madden Championship Series (MCS). There are more tournaments, bigger prize pools, and a longer season than last year. You can find out more at EA's official MCS page.
There will also be a complete breakdown of the MCS structure on EA's Twitch stream tonight (8/6/2018) at 8:30PM ET.
The prize pool this year comes out to $1.255 million dollars, making it the highest in MCS history. And there's more ways to compete than ever. Here's how the MCS is set up this year:
EA Majors
The EA Majors is made up of four parts:
Madden Classic (H2H Online or equivalent)
Madden Challenge (MUT Draft)
Madden NFL Club Championship (MUT Salary Cap)
Madden Bowl (MUT Salary Cap)
To qualify for any of the EA Majors (except the Madden Classic), you must play online ranked games and climb the leaderboards of the correct mode during the qualifying time period. There are alternate ways to qualify, which you can find on the MCS FAQ.
To qualify for the Madden Classic, you must attend a live event or compete in Madden Classic satellite events.
Premier Events
Premier Events are big money tournaments similar to traditional Challenger events. The Muthead League Season 5 is an example. Competitors don't earn MCS points through these events but they do get to show off their skills at a high level and earn some big cash prizes.
Challenger Events
Challenger events are local tournaments, where you typically play against competitors from your area. These events do not reward you with MCS points, but instead will culminate in their own live finals with their own dedicated prize pool.
The Challenger events will have an extended circuit this year, with events planned around the country from November 2018 through May 2019.
Registering and Competing
To register and compete, you must be a resident of the U.S., Canada, Mexico, Germany, or the UK and at least 16 years old. For all of the eligibility requirements, check the official rules.
If you want to try your hand at competitive Madden this year, register here.
What do you think of this year's MCS structure?