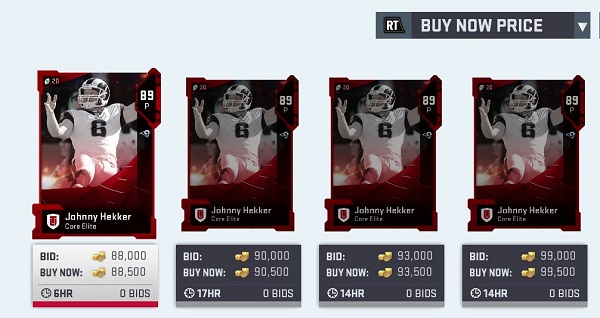 In MUT 19, one of the biggest changes to get used to is Player Upgrades. It's not limited to just Power Up players, and it's clear that Training Points are going to play a big role in helping you field the best team possible. To make sure that you're getting the best deal on Training Points, we've added a new feature to the Prices page.
If you head to the Prices page, you'll see that we've replaced "Newest Players" with a section called "Cheapest Training." As you're trying to build up your Training Points, make sure to refer to this section frequently to see which players give you the most Training Points per coin. Here's an example:
Power Up Tyreek Hill: 20.5k coins, 3 training points = 6,833 coins/training point
Core Leonard Floyd: 10k coins, 30 training points = 333 coins/training point
Core Johnny Hekker: 103k coins, 1600 training points = 64 coins/training point
(Note: Prices are fluctuating rapidly. Check the Cheapest Training section often for updated information.)
Based on the information available, it makes a lot more sense to buy Johnny Hekker items instead of Leonard Floyds. Even though you can afford more Floyd items initially, you would have to spend more in the long run in order to get the same Training Point return on your investment.
We've also added a Training Points section to each individual player's Prices page. You can now quickly see the player's quicksell value (how many Training Points you get for quickselling him) and, more importantly, the Coins per Training Point. The lower the Coins per Training Point, the better.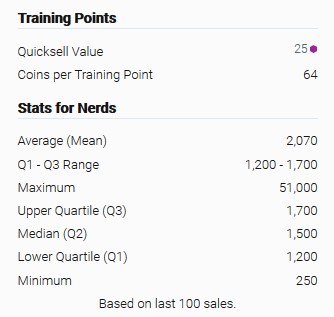 In a forum post going over this new feature, Rocketz wrote:
Any time you quicksell an auctionable player for training points, you're essentially buying training points with the coin value you could have gotten by just selling that player on the auction house. You're much better off selling your golds individually and buying a player like Hekker to quicksell to maximize your training points. I know it can be tedious, but if you're looking to maximize your binder value, this is an important tip.
As you dive into Madden 19 and begin to build your MUT team, pay close attention to your training points and think before you spend. Use this new tool to make informed decisions before you just go out and buy a bunch of Gold players to quicksell.
Good luck in Madden 19! Leave a comment if you got the HOF Edition and will be playing today.