At the halfway point in Muthead League Season 5, three players hold an impressive 5-1 record. Serious Moe, Drini, and Joe Rice all sit atop their divisions with just two weeks left to play.
On the other hand, players like Boogz, Stiff, and Dubby are having a difficult season and struggling to win any games at all. Don't count them out of the playoff race just yet, though. With 12 of the 16 players earning a playoff spot this season, every single competitor still has a chance to make it.
You can follow along with Muthead League developments by clicking on the MHL S5 tab at the top of the page. You'll be able to see the standings, the scores and VODs of past games, and keep track of the schedule by looking at the Upcoming Games.
Also, it's not too late to save a fantasy lineup and enter yourself into the B-Dubs Bowl Fantasy Challenge. You could win a Buffalo Wild Wings gift card just by playing!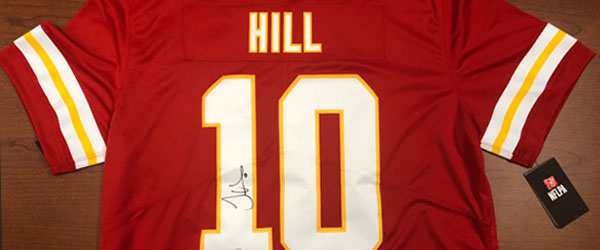 We teamed up with Buffalo Wild Wings to give a signed jersey each week during Muthead League Season 5. This week's jersey is Chiefs WR, Tyreek Hill. Follow the instructions below to enter. Good luck!
Tyreek Hill Signed Jersey Giveaway