Serious Moe, who is on a quest to threepeat as Muthead League Champion, was the only player to finish Week 1 with a perfect 3-0 record. On the other side of the coin, Blocky, Boogz, and Stiff all finished with 0-3 records, with Stiff losing by maximum point differential in each of his games.
With a $20,000 prize pool on the line, all 16 competitors are going to have to finish strong over the next few weeks. You can follow along with the schedule by visiting the MHL S5 page and participate in the B-Dubs Bowl Fantasy Challenge by visiting the link below below:
It's still early in the season, but at this point in time who do you think is poised to win it all?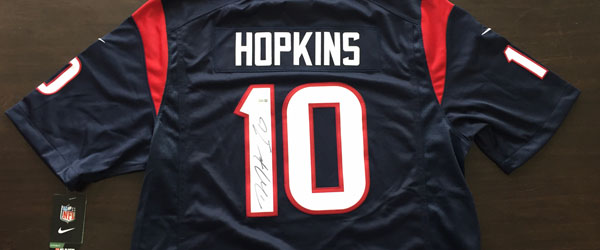 We teamed up with Buffalo Wild Wings to give a signed jersey each week during Muthead League Season 5. This week's jersey is Texans WR, DeAndre Hopkins. Follow the instructions below to enter. Good luck!
DeAndre Hopkins Signed Jersey Giveaway