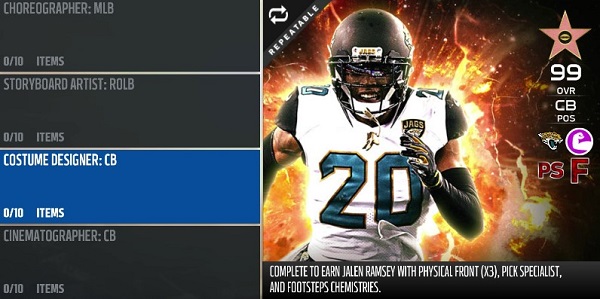 This morning EA released the Summer Blockbusters program featuring (24x) 99 OVR player items. You can see all of the new players and their full ratings below.
Players
There are 12 Offensive and Defensive 99 OVR "Movie Stars" that you can earn through sets. Here are all of the new player items:
Defense
Offense
Coach
There are also 92-93 OVR Summer Blockbuster players that you can see in the Muthead Database.
Sets
The Summer Blockbuster program has 3 types of sets:
Box Office - These 13 sets give you a variety of ways to earn Movie Tickets. Movie Tickets are required to complete the Movie Stars Sets.
Movie Stars - There are 12 Defense and 12 Offense sets that all require (10x) Movie Tickets to complete. These sets reward you with one of the 99 OVR players listed above. The Coach set takes (25x) Movie Tickets to complete and rewards you with the Doug Pederson item.
Extras - There is a Blockbusters Movie Star set that takes (1x) Golden Ticket Player and (1x) Elite Token that rewards you with your choice of a 99 OVR Blockbusters Movie Star.
Solos
The [Insert Explosion Here] solo sequence is 15 challenges long and rewards you with 50,000 coins, a Blockbusters Supporting Cast reward pack, (2x) Summer Blockbusters Movie Ticket items, and a Blockbusters End Credits reward pack.
Packs
Pack
Contents

14X Blockbusters Bundle


8,900 Points

Limit: 2

Contains 14 Blockbusters Supporting Cast Packs and 2 Blockbusters Fantasy Pack toppers

Blockbusters Supporting Pack


45,000 Coins | 650 Points

Limit: N/A

(1x) 92-93 OVR Blockbusters player
(1x) Gold or better player
(3x) Silver or better players

Blockbusters Fantasy Pack


100,000 Coins | 1,200 Points

Limit: 6

(3x) Gold or Better Players
(2x) 85+ OVR Elite Players, including 2 guaranteed 92+ Blockbusters options
What do you think of the Summer Blockbuster Program?