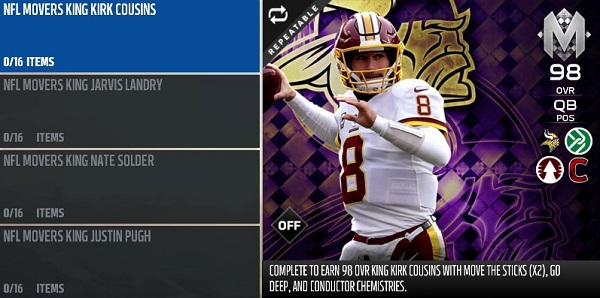 This morning EA released the highly anticipated NFL Movers program into Madden 18. This program revolves around major moves that happened during NFL Free Agency and also trades/signings that happened around the NFL Draft. Here's an overview of the NFL Movers program:
Players
You can see all of the Movers below.
Grandmaster
Kings
There are also 89-92 OVR Knights which you can see in the Muthead Database here.
Sets
Knights - Exchange (2x) Silver Tokens and (1x) Gold Token for (1x) 89-92 OVR Random NFL Mover.
Kings: Offense - These sets vary by player but require up to (10x) Knights, (5x) specific Gold Team Tokens (depending on player), and (1x) Elite Token.
Kings: Defense - Same as offense. Varies by player.
Grandmaster - Requires (1x) 98 OVR King, (1x) 97 OVR King, and (1x) 96 OVR King to complete. Rewards you with a 99 OVR Richard Sherman with Read and React (x3), Physical Front (x2), and 3 NAT Kings.
Solos
There are 22 NFL Movers solos. Completing these challenges rewards you with team tokens and Movers players to place in sets. You will also earn 53,500 coins throughout the entire sequence.
Leave a comment and let us know what you think about the MUT 18 NFL Movers program.