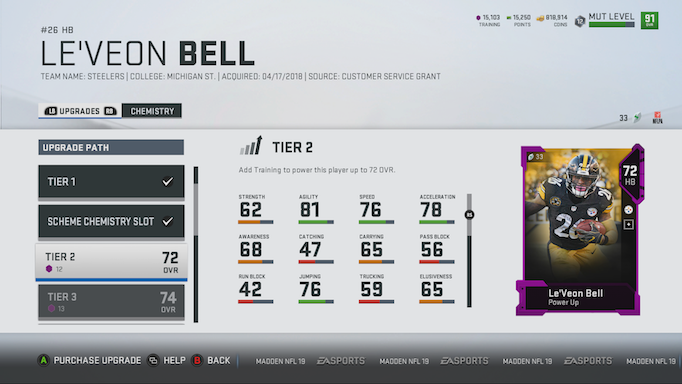 (Image is from EA's announcement)
EA released some big news this morning, shedding insights into many new features that will be available in MUT 19. In their article, which you can read here, they cover Player Upgrades, Solo Battles, Squads Challenges, and more. Here's an overview of these new features:
Player Upgrades
The Player Upgrades features is EA's answer to the vast amount of feedback they received about Power Ups in Madden 18. They took that feedback and worked on streamlining the process, making upgrading players much less complicated. Here's what they did:
Added a new currency type called Training. Training is one of the things you'll need to power up players in Madden 19. You can get Training by quick-selling items you don't need.
Removed the need to go to Sets. You can now upgrade players from the item itself instead of having to navigate through hundreds of Set paths.
Player Upgrades still make a player non-auctionable/non-tradeable (NAT), but in Madden 19 they've added the ability to downgrade players for a partial refund of the investment.
What about chemistries? In Madden 19 almost no players will come with a chemistry pre-equipped. Instead, you'll have the ability to add or remove Chemistry as you see fit. This is a big step towards truly customizing and personalizing your team. Not all players will have all Chemistry options, though.
Solo Battles
Solo Battles are a brand new feature that adds a level of competitiveness to solos. Each week there will be 13 games vs the CPU, and in each game you'll try to earn the highest Battle Score.
By playing the Solo Battle games, you'll earn Battle Points based on how well you do. Better stats = better Battle Score. You can also increase your Battle Score by choosing a higher difficulty. The higher the difficulty, the higher the Battle Score multiplier.
Key things to remember:
There are 13 Solo Battles per week.
Each Solo Battle is a full game with 3 minute quarters.
You choose the difficulty, and the harder the difficulty the higher your Battle Score can be (based on in-game stats).
There is no restarting or replaying Solo Battles. You only get one chance to earn a high Battle Score each week.
There will be 14 different reward tiers (EA will share more info about those later).
The CPU teams that you'll play in Solo Battles will be based on real MUT rosters from the community. That means that each week you'll be playing current MUT teams stocked with fresh player items.
Squads Challenges
In Madden 19, you and two friends will have the ability to play Squads games versus the CPU. These Squads Challenges will vary quite a bit from one another, and EA plans on producing weekly challenges and updating them throughout the entire year.
Squads Challenges notes:
You can replay Squads Challenges as many times as you'd like.
There is a sizeable "First-Win" bonus and an extra incentive to beat each of the challenges at least once per week.
Other Notes
Here are some more MUT 19 announcements from EA's post:
There are 7 new specialist positions that will help you get the right player on the field based on the situation.
EA removed excess from the depth chart. You no longer need as many backups in your lineup (like having 5 punt return slots).
All remaining positions for offense and defense count toward your Chemistry. There are now 25 spots on offense and 25 spots on defense that count toward Chemistry (as long as they are in their natural position they will count even if they never play).
What do you think of this big MUT 19 announcement from EA? Let us know in the comments and don't forget to read their entire article here.