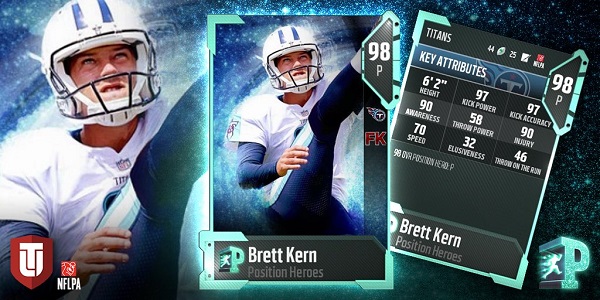 Today EA released the second half of the Position Heroes Program, this time featuring the defensive side of the ball. There are 12 new player items, each with a 98 OVR version and a 94 OVR version. You can see who these players are and their full ratings below:
To see the 94 OVR versions of these players, look in the Muthead Database. To see the Offensive Position Heroes, read this post.
Sets
Complete sets to earn Position Heroes. Each player has two sets, one for the 94 OVR version and another for the 98 OVR version. Both sets require player items with the same position as the Position Hero reward. Both sets reward players that can be auctioned and traded. Here are the requirements:
98 OVR Position Hero
94 OVR Position Hero (earned from the player's 94 OVR set)
2x 91+ OVR
5x 88-90 OVR
8x 85-87 OVR
10x 80-84 OVR
94 OVR Position Hero
2x 88-90 OVR
5x 85-87 OVR
8x 80-84 OVR
10x 75-79 OVR
10x 70-74 OVR
15x 60-69 OVR
Solo Challenges
There is a new solo challenge sequence called Defenders of Star Command. This sequence is 12 challenges long and completing it will reward you with 22,750 coins, a Defense Fantasy Pack, and a NAT 94 OVR player used to complete the 98 OVR player set.
Objectives
There are six Defensive Position Heroes objectives available. If you are able to complete all of them, you will earn a total of 1,000,000 coins.
Complete 2 Unique Defensive 98 PH Sets (25,000 coins)
Complete 4 Unique Defensive 98 PH Sets (50,000 coins)
Complete 6 Unique Defensive 98 PH Sets (75,000 coins)
Complete 8 Unique Defensive 98 PH Sets (100,000 coins)
Complete 10 Unique Defensive 98 PH Sets (150,000 coins)
Complete 12 Unique Defensive 98 PH Sets (250,000 coins)
Packs and Bundles
Pack/Bundle
Contents

Defense Fantasy Pack

22,000 Coins or 400 Points

Limit: None

Choose a pack containing 4 Gold or better players and 4 Silver or better players. Your choice of either ROLB, RE, LOLB, and LE; SS, P, DT, and CB; or FS, MLB, DT and CB

Defense Fantasy Bundle

2,200 Points

Limit: 6

Contains 6 Defense Fantasy Packs and an 84+ OVR Elite Defensive Player Topper.
Who was the biggest snub from the Position Heroes Program?