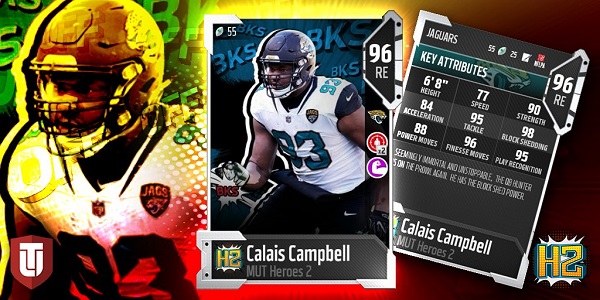 Today EA updated the MUT Heroes program by adding new players, sets, solos, and objectives. As a reminder, MUT Heroes are players who have a "Super Power", which means that one of their ratings has been boosted. For example, Calais Campbell's super power is Block Shedding (he has 98 BKS). For more info on what the MUT Heroes Program is, read our original article here.
Here's a quick overview of the expansion:
Players
EA added a new 96 OVR Ultimate Hero for each team. You can see all of the new Ultimate Heroes and their full ratings below:
Offense
Defense
In addition to Ultimate Heroes, each team has a Hero and a Sidekick. You can see all of the new items in the Muthead Database.
Sets
There are 35 Series 2 sets. Here's how they work:
Series 2 Hero Exchange: Add any 90 OVR Series 2 Hero for nine random 84 OVR Seris 2 Sidekicks
Series 2 Sidekick to Hero Upgrade: Add any (11x) 84 OVR Series 2 Sidekicks for your choice of any 90 OVR Series 2 Hero.
Series 1 Ultimate Hero Exchange: Add any 91 OVR Series 1 Ultimate Hero for your choice of any 90 OVR Seris 2 Hero.
32 Ultimate Heroes (one for each team): Each of these sets requires (1x) Elite Token, (1x) Heroes Series 2 item, and (24x) Wildcard Heroes Series 2 Sidekicks
Solos
There are 2 new solo challenge sequences (one for offense and one for defense). Each sequence is 16 challenges and will reward you with 38,250 coins, 7 NAT Series 2 Sidekick Packs, and 1 NAT Series 2 Hero Fantasy Pack.
Objectives
Here is the MUT Heroes Series 2 Objectives List:
Complete 4 Ultimate Hero 2 Sets - 25,000 coins
Complete 8 Ultimate Hero 2 Sets - 50,000 coins
Complete 16 Ultimate Hero 2 Sets - 175,000 coins
Complete 32 Ultimate Hero 2 Sets - 250,000 coins
Completing the entire objective list rewards you with another 500k coins.
Let us know what you think of the MUT Heroes Expansion in the comments below.