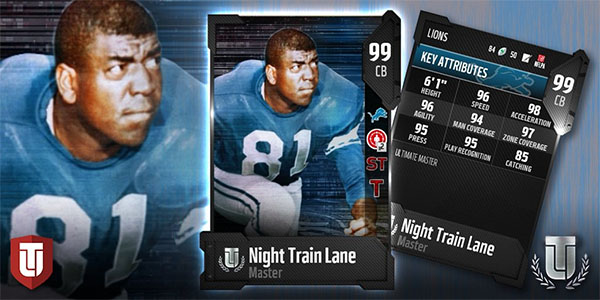 Earlier today EA Sports released a 99 OVR Night Train Lane as this year's Ultimate Master. You can unlock his player item by completing the following objectives:
Win 20 Games with an OVR> or = 85
Win 50 Unique Solo Challenges
Win 50 Online Games
Complete 50 Sets
Win 10+ Auctions
Sell 10+ Items on the Auction House
Complete 18+ Daily Objectives Lists
Gain 25,000 Passing Yards
Gain 10,000 Rushing Yards
Gain 250 Passing TDs
Gain 125 Rushing TDs
Intercept 20 Passes
Force 10 Fumbles
Record 75 Sacks
Record 250 Solo Tackles
When you complete these objectives, you will be able to choose from four different versions of NTL with different chemistry types. Also, it is important to note that you do not to have completed MUT Master to be eligible for Ultimate Master.