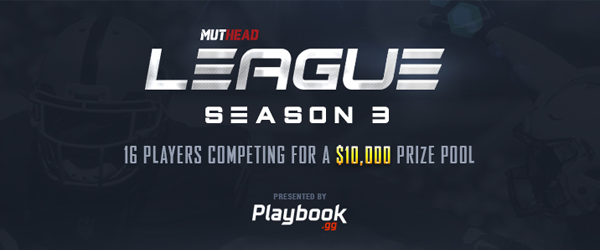 Week 1 of Muthead League Season 3 (MHL S3) starts today and features some of the top competitive players in Madden 18. Here's an overview of Muthead League Season 3 presented by Playbook.gg:
Competitors
The Muthead League is an invite-only competition that features 16 of the best players in the world competing for their share of the $10,000 prize pool. This season's competitors are:
In alphabetical order...
AKG

Beastmode Mac

Boogz

Drag

Figgy

Franchise GG

Hollywood

K3rryq

Mattstergamer

Pwny Montana

Schemin

Serious Moe

Stickwork

Stiff

Strafin

Vtech
How do you get an invite to play in the Muthead League? If you think you have what it takes to compete with the best, fill out this form.
Season 3 Overview
These players have been randomly divided into two conferences and four divisions. The regular season is four weeks long and every competitor will play 3 games each week (12 games total). Six players will make the playoffs (4 division winners and 2 wildcards).
We'll broadcast the playoffs and the championship on Saturday, March 17.
Schedule
Week 1 (2/12 - 2/18)

Week 2 (2/19 - 2/25)

Week 3 (2/26 - 3/4)

Week 4 (3/5 - 3/11)

Playoffs + Championship (3/17)
How To Watch
You can see all of the scheduled/upcoming games by visiting this page. Each scheduled game will include a link to the Twitch channel that the game is being broadcast on. The first game of MHL S3 is scheduled for today at 3:30 PM ET between Vtech and Schemin.

Watch today's game at 3:30 PM ET on Vtech's Twitch Channel.
Who do you think will win Muthead League Season 3? Let us know in the comments below!