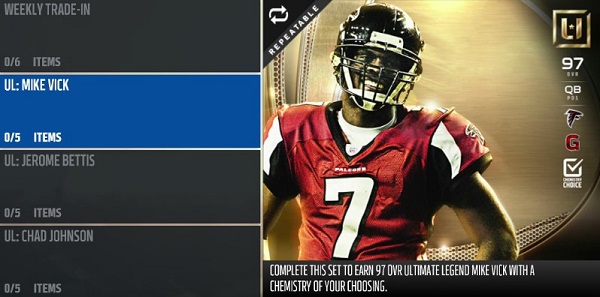 #MUTSeason has begun! EA has kicked off the Ultimate Legends (UL) Program this year by dropping 10 UL player items into the game. Before we dive into the specifics of how this program works in MUT 18, take a look at all the UL players and their full ratings below:
Mike Vick
Jerome Bettis
Chad Johnson
Larry Allen
Bruce Matthews
Jason Taylor
Mike Singletary
Derrick Brooks
Steve Atwater
Ken Houston
Sets
Each of the 97 OVR Ultimate Legend players can be earned by completing a set that requires all 5 of their Ultimate Legend items. You can choose the chemistry for the 97 OVR version once you complete the set.
There is also a Weekly Trade-In set that requires 6x Gold Tokens to complete. This set rewards you with 1x 88-95 OVR Current Release Ultimate Legend Player.
UL Giveaway Trade-In - If you log in and claim your UL giveaway player each week, you can trade in 8x of them to get a full 97 OVR UL Player.
EA has also announced that they'll be releasing a LTD Ultimate Legend Mel Blount tomorrow.
Which of these Ultimate Legends do you want the most?